December 29, 2004
0

found this helpful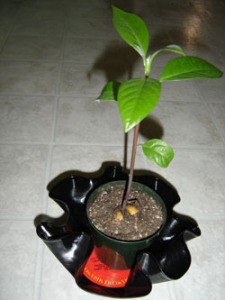 A pal had a bunch of plant clippings she was wanting to get rid of at a yard sale. With not having any excess planters, she made her own planters with record albums she no longer wanted or needed. She melted the albums into shapes of planters, with the center hole being the bottom drain hole. Clever idea! One idea I'd never thought of before!
By Terri H.
Editor's Note: Here is a link to a ThriftyFun craft project making a vinyl record bowl or planter.
December 29, 2004
0

found this helpful
Top Comment
To turn records into planters, cover an oven safe bowl, or flowerpot with foil. Place it on a cookie sheet upside down with a record on top. Oven at 250 degrees, record will soften and drape down over the bowl. Keep an eye on it.
January 3, 2005
0

found this helpful
Top Comment
We just made bowls out of record this Christmas. We used a 200 degree oven and placed a pyrex bowl inverted on top of a cookie sheet. watch carefully and when the record begins to droop, work quickly to get it into the shape you want. If you don't like the shape, remelt it! There was no smoke although it did smell a little funky (we kept the windows open.)
December 29, 2004
0

found this helpful
Great idea but does it smell and smoke?
December 29, 2004
0

found this helpful
I read that you can melt them in the oven at 200 degrees if you place them on a bowl upside down. You probably would want to put a baking sheet under it that is lined with foil. Hope this helps.
December 29, 2004
0

found this helpful
To have a planter with scalloped edges leave the record out in the hot sun. I lost a lot of albums long ago by leaving them in a hot car, and didn't think to use them for this purpose.
January 12, 2005
0

found this helpful
Put it in a warm oven (200 deg. should do it) for about 15 minutes. Or, just leave it in the back window of your car while you go shopping on a nice warm day.
Related Content
(article continues below)
April 27, 2005
0

found this helpful
I just made a planter, but did not look for directions first. duh. I put it on a bowl in the oven after I baked a cake, so it was 350 degrees. It melted really fast, just a few minutes, and actually started to bubble. Its very attractive, molded tightly to the bowl shape, but came off very easy. Very little smell even at the higher temp.
July 26, 2006
0

found this helpful
Hi there,
Just stand a terracotta pot upside down in the kitchen sink, place the 'vinyl' on the top and pour boiling water over it, you can then mould it into shape. It doesn't work with the really old albums, has to be vinyl
January 2, 2007
0

found this helpful
I tried it in a toaster oven, and it caught on fire, I have cleaned and gotten all of the black stuff out but I can't seem to get rid of the smell, I really cant afford to buy another one, anyone have any help?
April 18, 2007
0

found this helpful
I used a heat gun to melt a plastic soda bottle into the shape I needed. I think it would work on an LP
(the kind of heat gun used for embossing powder on home made cards, you can find them at a craft store)
Read More Comments