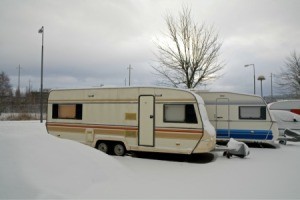 Questions
Here are questions related to Winterizing Your Mobile Home.
My husband and I spend the winters in the southern states, living in a travel trailer. We have a string of days where the weather is very cool and that is when I do my cooking and baking, enough to get us by for several days' meals. It eliminates the need to keep our electric heater running and warms up the unit at the same time.
I also leave the dish water in the sink and put the plug in the bathtub when taking a shower, until the water has become cold. That adds moisture to the air, which makes it feel warmer.
By annelaundrie from Green Bay, WI
---
Most Recent Answer

By Darlene 01/24/2010
Thanks for the good idea! We too are "snowbirds"
I need some advice about a mobile home/trailer. Here's the situation. I bought my father a mobile home back in 93. It is a nice well maintained home, but it is now 30 years old. My father recently passed away and now I have this trailer to deal with.
I was there yesterday and the kerosene furnace is almost out of fuel. Kerosene is around $3 a gallon here, so I would like to put a minimal amount in the tank for now and possibly winterize the home, drain the water, close it up until it's sold.
I was told I can expect to use around 4-5 gallons a day to heat it. I simply can't afford to waste this money heating an empty home. Does anybody have any thoughts on how to go about this, what do I need to do, who I should contact? The expenses are going to start piling up shortly (fuel, taxes, lot fees, etc.).
I have other issues with this, but I will post them separately. I'm 20 minutes south of downtown Pittsburgh in case anybody here needs a nice, cheap place to live. Thanks for reading!
By Sandy from Pittsburgh, PA
---
Most Recent Answer

By Sandy02/01/2011
I want to thank you all for your answers so far. I'm glad I didn't drain the lines completely because the pipes are a little bit corroded already, and I'd have trouble when I turned the water back on. After almost a week of not running water, it came out all rusty for a few long seconds on all faucets. To the person who feels sorry for me for my "lack of knowledge", in my day I used to do heavy duty demolition, put a kitchen in my own home, laid flooring, built decks, etc. I am now a 53 year old disabled woman, so crawling under a freezing cold trailer was not my idea of a good time. My husband is in even worse shape than I am, through no fault of our own. So I'm sorry, but that is why I posted here, hoping closing it up was something simple we could maybe do on our own.
Any ideas to insulate my mobile home? The floors and walls are cold and I am restricted on money.
By lrrn567 from Bristol, CT
---
Most Recent Answer

By lovemy3labradors10/17/2012
I also live in a mobile home. I have done a few things that I believe have helped with energy costs!! My home is not that old, so I have wonderful Lockheed windows, which help a LOT, but I also have a "chair railing" of paneling throughout, which adds a touch more help along the walls.

I make sure all blinds go down past the window sills in late afternoon, and they make really nice thermal curtains which will help as well. I put in a good quality carpeting in all rooms but the kitchen which help with the cold underneath the skirting. I also have heated pipes which (it may be my imagination) help too...lol.

I put something against all outer doors too. Was thinking of spray in insulation...but not sure of the cost. You may want to consider a kerosene space heater....not scary at all anymore, and a few dollars a day will keep the chill out. Hope you all have a warm and cozy winter!
Solutions: Winterizing Your Mobile Home
Do you have knowledge about this guide topic? Feel free to share a solution!