We have had our puppy for 3 weeks now. Suddenly, she has begun whining nonstop. She even whines in her sleep. She is very restless and tosses and turns. Any suggestions?
By Christy from Olathe, KS
Ad
---
By bkvander 2 114 08/03/2010 Flag
Try putting a freshly worn shirt from it's primary care taker in the crate with it. Use a crate if you aren't already - it soothes and makes them feel secure.
I put my nightgown for lilly in her crate. we also gated her in one room she was able to go in and out of her crate on her own. we used training pads on the floor it also help trained her.
hope this may work for you
By abrupt_silence 5 37 08/03/2010 Flag
You can try putting a teddy bear in the crate with the puppy. My puppy used to the do the same when he slept and even shook himself awake at times. After we got him his teddy bear he slept through the night. He even waits in the laundry room as teddy goes through the wash. Haha.
For some dogs if you put a loud clock near them it helps them sleep. They have something to listen to keeping their mind semi occupied and the tick tock is similar to the mother dogs heartbeat. So it could help if he is suffering from separation anxiety.
By applesauce 8 55 08/04/2010 Flag
Put an old non-digital regular alarm clock in the bed with her. The tick tick tick helps them quiet down, and put some article of your clothing in with them (with your 'smell' on them).
By Dena Roberts 35 491 08/04/2010 Flag
If the puppy wasn't whining until recently (you say "suddenly"), you should take it to the vet. The whining and restlesness could be caused by worms, which some puppies are born with. The treatment is easy, inexpensive, and quick, and will make the puppy much happier and more comfortable. If left untreated, worms can kill your puppy.
By Robyn Fed 394 1,240 08/04/2010 Flag
I would take the puppy to the vet and have it given worm medicines. All puppies have worms. Also if it is like a schnauzer type they talk all the time. All the time, repeat all the time. Lol. Baby the baby. I would give it a blankie and a toy. Cover it up with this blanket each time you put it down for a nap. Give it a little kiss each night on top of the head, or kiss by its head, so it knows you are telling it good night. Tell it it have sweet dreams, etc.

It doesnt matter if the puppy gets up after this, it will see that it is a routine at night and get used to it. Also at naps, cover it up and tell it to have a good nap. A clock in there helps the puppy feel like it hears a heartbeat. Just dont let the alarm go off!

Hope these things help you, also go to leerburg.Com for their free articles and podcasts on puppies and their needs. It is a great site. He trains german shepherds but is smart with all dogs and the articles and pod casts and e books are free.

Robyn
Questions
Here are questions related to Soothing a Whining Puppy.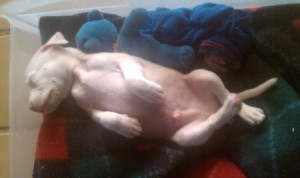 My 6 week old puppy can't sleep comfortably. He keeps crying. What could be wrong with him?
By Jay
AnswerWas this interesting? Yes No
---
Most Recent Answer
By Dreamwvr 1 78 07/06/2011 Flag
Give him a stuffed animal to sleep/cuddle with, any yes, he was taken away from his mama and siblings too soon.
---
Archives
Thrifty Fun has been around so long that many of our pages have been reset several times. Archives are older versions of the page and the comments that were provided then.
If you have a new puppy that whines at night, take a wind up alarm clock and place it in the crate with him. The ticking will soothe him, and you just might get a little sleep!

By Linda Craft
Feedback:
RE: Soothing a Whining Puppy
Just be sure to turn off the alarm feature first! Otherwise, you'll have one poor scared pup when the alarm starts clanging! (07/20/2005)

By sunhat
RE: Soothing a Whining Puppy
Also, you can put a hot water bottle with a cover on it with the puppy and the alarm clock. It reminds the puppy of its mother. :) (07/21/2005)

By kidsNclutter
RE: Soothing a Whining Puppy
Put the puppy's crate in a place where he can see you so he will know you are there. Also, if it starts whining just put your hand in front of the crate so he can sniff it, but don't say anything to him. (08/09/2005)

By Chris
RE: Soothing a Whining Puppy
The hot water bottle (even a covered one) and an alarm clock are a bad, BAD idea. Puppies chew...a LOT. Aside from the teething, there is the anxiety issue. They sometimes chew when they're upset. If you put foreign objects in his crate, he may decide to chew on them, and small parts could be swallowed and lodge in his intestines or choke him. Never, never leave a puppy unattended with toys or other (non-pet indicated) items. This is very, very dangerous and has led to many puppies having to have surgery, and even death. I know...I'm a vet. (08/29/2007)

By K