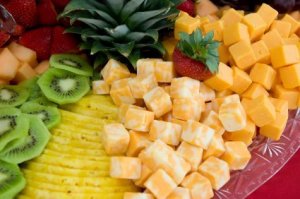 One way to reduce the cost of food for your wedding reception is to serve inexpensive but tasty appetizers. This is a guide about inexpensive wedding appetizers.
Ad
---
Solutions: Inexpensive Wedding Appetizers
Read and rate the best solutions below by giving them a "thumbs up".
Places like Dollar Tree sell jars of marinated mushrooms, olives, roasted red peppers, etc. for about a dollar a jar. You can use these to make giant, inexpensive antipasto platters, supplement with pepperoni and cheese cubes or mozzarella balls. To make the mozzarella balls extra fancy, try rolling them in crushed peppercorns or red pepper flakes. Hope these ideas help someone. :)
By Veronica from NH
Places like Dollar Tree sells jars of marinated mushrooms, olives, roasted red peppers, etc. for about a dollar a jar. You can use these to make giant, inexpensive antipasto platters. Just supplement with pepperoni and cheese cubes or mozzarella balls.
Hope this helps someone. :)
By Veronica from New Hampshire
Give a "thumbs up" to the solution that worked the best! Do you have a better solution? Click here to share it!
Questions
Here are questions related to Inexpensive Wedding Appetizers.
We are getting married June 22, 2013. We are trying to decide on what kind of food to have. We are pretty much open to anything, but fish. My fiance was a chef at a college and they have offered to cater for us at a reasonable price. We just have to decide what we want. Any suggestions will help. Thank you.
By Shawnda from Springfield, OH
AnswerWas this interesting? Yes No
Ad
---
---
Most Recent Answer
By Sally H. 04/01/20130 people found this helpful
Congratulations on your upcoming wedding! My husband and I will be celebrating our 25th wedding anniversary on that very day. Our kids are throwing us a big party. I don't know where you are located, but we found an amazing caterer who's prices could not be beat! If you are in Florida, Let me know, I will send you his name. He is doing Ropa Vieja, Spanish Steak and Onions, BBQ Ribs, Fried Plantains, Black beans and Rice, Parsely Potatoes, green beans almandine, and dessert for $10 a head! He only charges 18% for servers (buffet style). And he comes and sets everything up and cleans up afterward. We are expecting 100 people, so we have dinner done for less than $1200 and we don't have to deal with it.
---
Archives
Thrifty Fun has been around so long that many of our pages have been reset several times. Archives are older versions of the page and the comments that were provided then.
I need ideas for quick and easy reception food. Anything from finger food to elegant eats. Any input would be greatly appreciated.

Saray1 from Layland, WV
---
RE: Wedding Reception Food Ideas
Not sure if this is to any help but my hubby to be and I are having the sides, new potatoes and steam veggies catered from Boston Market. We will be marinading chicken breast on our own, which we will buy from the meat market and asking a few people to bake it for us. I also found local party supplies store, so we're renting chaffing dishes 3 for 10 bucks each. For drinks we're serving lemonade and ice tea and this is for party of 120. But to have extra I will buy for 150 people.
So with that said you just have to do your homework. Olive Garden has their menus on their website. Use your wedding party to help with the cooking. Before we found out about Boston Market I was going to do like Bobby on "Show Down" and have the wedding party do a cook off or show down. I thought this would keep it fun since they would be cooking for a large group. I will also be making my own cake. I think it's good to start early. Ask around, because you never know who knows who. (05/29/2008)
By Tru
RE: Wedding Reception Food Ideas
As a couple, you simply need to do what you can afford. Weddings should not be about how lavish they are and the food that is being prepared. They should be about the ceremony that is being performed and the future that is in-store. The majority of your friends and guests will accept this. Whatever happened to the days when receptions where just the cake and punch with a few sandwiches. If someone chooses to spend a $1000 to come that is their choice. Choosing to limit your invitation list could offend others, as well. I wish you the best. (05/30/2008)
By Carol
RE: Wedding Reception Food Ideas
My wedding is 8/22/08 and my son is doing the reception at my house after the wedding. We are doing the stuffed mushrooms, cocktail weenies, antipasto tray with olives, crackers, cheese etc. This wedding is 1 week after my 53rd birthday, you are not ever too old to be a bride. Missy RED Louisiana (06/03/2008)
By Sherry
RE: Wedding Reception Food Ideas
I am giving my parents a 50th anniversary party today for @ 300 people. We are serving cake which is a gift from a friend, meatballs, mini quiche, pinwheels, which I purchased at Sam's for $283. I also have done the veggies, dip, and cheese straws for an additional $150. The fruit display is also another gift from friends as well as the punch. I have realized that you can cater your own wedding reception for less than $1,000 for as many as 300 if you really work hard and do it yourself. Go to Ellen's Kitchen website for help in planning for the amount of people you are inviting. God Bless you in your life together. (10/12/2008)
By Busy Daughter
RE: Wedding Reception Food Ideas
We just went to 2 receptions last night. One spent $1000 on food for 300 and the second spent $9000 on food for 100. And I have to say the first reception had better food hands down. The first had 3 soups: broccoli cheese, cheesy potato, and, a white bean chicken chili with all kinds of toppings. They also served 6 salads: Italian pasta, fresh spinach with feta and red onion, a fresh broccoli salad with cranberries, oriental chicken pasta, a Chinese chicken salad, like Applebees, and a chopped Cobb like blue cheese wedge with grilled chicken and egg and blue cheese. It was served with 4 types of rolls: sour dough, whole wheat, white and a rustic sweet brown, Outback-like bread, all served with butter.
They had a very delicious simple punch that was made up of 7up, sweetened lime juice, frozen raspberries and grenadine syrup. The food there was absolutely delicious and everyone seemed to enjoy it. They also had a candy bar for the children with little bags to fill up with candy in the wedding colors. Great idea!
The second was at a country club and served many types of appetizers, but very gourmet. The cheese trays were not even touched especially the big hunks of blue cheese, the seafood platters with shrimp, salmon and crab claws were nominally eaten. The stuffed mushrooms were cold and the brushetta was soggy. The cute little finger sandwiches were unrecognizable.
Guests mostly ate the fruit and veggies. We had been to this country club before for 3 other weddings and their food is good. But even with a sit down dinner, steaks and halibut are served best hot off the grill, not sitting under a warming lid for 2 hours waiting to be served. So, even when you have the same class of people, everyone likes comfort food.
We go to 2 weddings a month, and I have to say the less formal the better. We go to resorts and million dollar homes, and hands down many people commented on the first wedding's food we went to last night. It was enjoyed by all. I personally do not think that the soup idea would work in the summer months, but maybe have 2 more salads instead, like a fruit salad and maybe a Hawaiian salad topped with almonds, pulled sweet pork, mandarin oranges and cabbage and ramen. Everybody loves salad! Oh the first reception had a coffee and hot chocolate bar with all the toppings. Big hit also. (03/01/2009)
By Kjones
I need ideas for wedding reception food on a tight budget.
Lisa from Dayton, OH
---
RE: Wedding Reception Food Ideas
Sam' club has wonderful choices in the frozen section in bulk boxes, like all sorts of appetizers just the right size for such occasions and were $7-9 per box and each one has like 50 count to it. We got sausage balls, vegetable roll ups, and more for my daughter's wedding reception. We just heated them up in the oven as directed then kept them in crock pots on warm until ready to serve. (03/24/2009)
RE: Wedding Reception Food Ideas
You can make, or have someone else make, a large pot of chicken and dumplings, or one or two large barbecued briskets, cooked in the oven; large casserole of ground meat or chicken; large mixed salad. (04/13/2009)
I'm getting married on October 3rd at 3pm and reception to follow. I need the reception to be cheap. I want to know if it would be inappropriate to have cake, punch, coffee, and no food?
I am having a BBQ wedding and we are asking people to bring a dish. We are providing the main stuff.
I am getting married next June. June 11, 2011 to be exact. We were thinking of having the wedding at 11:00 A.M. to go along with the 11 theme just to be fun.