Tipsy Flower Pot Stand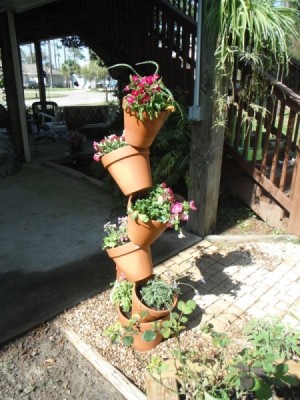 To make a tipsy flower pot stand, get at least 76 inches of rebar and pound 1 foot of it into ground. Place a 12 inch pot over/down rebar through the pot drain hole and fill with dirt so that your second pot will rest on top of dirt. Lace remaining pots through rebar (size of you choice) and tip to your desired position. I used 4 (10 inch) pots and 1 (8 inch) pot on top.
Fill with plants and pound any remaining rebar down so it doesn't show outside the top pot. It would probably be a good idea to put a layer of mulch on top of the soil as clay pots dry out fast in the hot summer sun.
Source: http://www.gardenandcrafts.com
By Tracey V. from Santa Rosa Beach, FL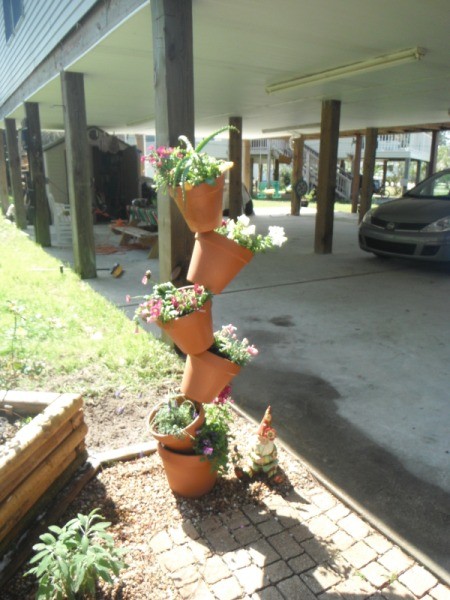 Feedback
Read feedback for this post below. Click here to post feedback.

By
03/05/2012
There are different sizes of rebar that you can use but it may not be sturdy enough. I found this project is best for 12"10"8" pots. Bigger pots have bigger drain holes that fit the rebar. I did make a smaller version with smaller pots/drain holes using a thinner rebar, but it is only stacked a couple of feet high.

By
03/05/2012
Love it! But, some of my pots have smaller drain holes. Anyway that you know of to enlarge the hole without cracking the pot?
Post Feedback
Add your voice to the conversation.
Related Guides
Related Posts