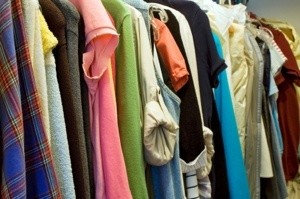 This is an idea I've been slowly implementing. If you have 30 tops (many women have 150 or more including tees, tanks, sweaters, sweatshirts, long sleeved, short sleeved, dress blouses, cotton blouses, etc.), you could wear each top ONLY ONCE A MONTH for an entire year!
A hundred years ago, even 30 tops would have seemed an extravagance few could afford and fewer could probably fit in those non-existent clothes closets. But now we Americans, at least according to the less is more Europeans, are swimming in a sea of mediocre at best clothing.
Imagine for a moment you cull the absolute best 30 tops from all the closets, drawers, laundry baskets, and to be folded piles of laundry all around your house and you toss anything that isn't in the top 30. Now, each day, you will be wearing your "best" stuff and need not fear running into your boss, old boyfriend, new client, or new friend from your yoga class looking schleppy. You'll be dressed your best each and every day.
Now let's take it a step further. Let's say that old group of 100 tops was bought new for about $20 each. That is $2000 in clothing, most of which will not wear well, stay stylish for long, or be worth more than $1.00 at a garage sale within a year or less.
If instead, you were starting from scratch (which you won't have to if you're like most over clothed Americans) and buying only 30 tops for the whole year. That same $2000 will buy 30 tops around $66 each. J Crew has good quality clothing and you could currently buy a "featherweight cashmere short-sleeve sweater" on sale for $59.99 (Reg. $148).
This is a FAR better option than buying 3 cheaply made $20 tops. The cashmere will stay in style and last likely four or more years at an annual cost of $15 or less. If you repeat this thinking with all your clothing, buying good quality clothing on sale, you will soon build an impressive, high quality wardrobe for less or no more than you spend now and will up your style quotient exponentially.
Source:
By frugal millionairess from Wisconsin
Ad
---
Feedback Forum
Feedback about this article is posted here. Want to contribute? Click above to post feedback.

By eileen [6]10/05/2009
Thanks for all the helpful comments. I want to stress that though I posted this as an ideal, it is still only that to me as I have far more than this. But I am always disappointed when I run around in something schleppy thinking, "I'm not doing anything important today," and inevitably I get a last minute invite to something or run into someone I would like to have looked nicer to see.

GREAT point made about resale or consignment shops. At least 75 percent of my wardrobe comes from these and there are great bargains to be had. And as mentioned, TJ Maxx has some great deals, as long as you're getting something you think would be among your absolute top favorites and not just something that's inexpensive but doesn't really do you justice.

And of course each person must come to their own number. For me 30 daytime nice tops should be plenty, but it would not include exercise tops or a few old tee-shirts for gardening.

Maybe the more important goal I myself am striving for is to use my nicest things each day, because there seems to be a sort of looping effect.

On the day I put on black sweat pants and an old gap long sleeved tee, with just the tiniest bit of yellow paint on the sleeve, I'm not apt to do anything with my hair, no lipstick, no real "pride in my appearence" so to speak. But on the days I put on a cashmere sweater (mine from a thrift store) with nice khakis, I'm likely to spend 10 minutes on my hair and put on a bit of makeup and a spritz of perfume for good measure, and for me (every person is different) the day simply goes better.

There is no small irony in the fact I'm typing to you in said black sweatpants, and black tee, with bed head hair and not a stitch of makeup. I just came home from the dogpark and am waiting for my older son's bus to arrive. And hoping for no last minute invites from my dear hubby, "Do you want to meet downtown for dinner tonight?"'-)

By Ginger10/04/2009
I suppose that once you achieve a manageable collection of tops (blouses, t-shirts, sweatshirts) that you actually wear a good plan would be to cull one each time that you bring home a new (or used) one in order to avoid stockpiling them again.

Thirty sounds like a lot of tops, but for some people it may not be enough. Some of us in colder climates layer our clothing and want to have enough tops to do this without wearing the same thing over and over again. I know that I have quite a few not-so-good items that I either wear singly to work (or lounge) around the house or layered under better tops, sweaters or sweatshirts. Some people need more dress clothes than others due to the need to dress professionally for work, and may need two separate wardrobes.

My very limited closet and drawer space is a problem that I am facing since moving to a smaller house. Sweaters and sweatshirts take up a lot of space, so the challenge is to decide just how many to keep and where to keep them, separating the dressier ones from the everyday good ones from the grubby or well-worn ones that I wear when I clean or work outside in cool weather. After that it will be a matter of eliminating one for every new one that I bring home.

I think that most of us here like being thrifty as well as fashionable and are reluctant to discard wearable clothing that we enjoy owning based upon a plan to limit ourselves to a particular number of tops when we did not choose that number. We each need to decide the number that works for us, based upon our lifestyle and needs, and then cull the excess, particularly those items that we always seem to pass over when selecting a top to wear.

I do appreciate the intent of this thought-provoking tip and do not mean for my comment to be critical. I am just trying to be a bit more flexible and realistic when it comes to planning a manageable wardrobe. Curbing our excesses can be such a challenge!

By Sandra [13]10/03/2009
I have one question. If I were to get rid of all of my not so nice tops what would I wear to cook, clean, garden etc? I'm sloppy when I do these things and I don't want to wear anything good.

By Jacqueline Reitnauer [12]10/02/2009
Wow, really? I don't even think I have 30 tops!

By Kathryn Visser [18]10/01/2009
I'm another one of us who like to shop at thrift stores for tops, and I did have too many of them. I found this great link for taking care of atleast a few of my tops:
http://wildonionstudio.wordpress.co ... cle-a-tee-shirt-into-a-shopping-bag/ and there is another one from Martha Stewarts about making a t-shirt into a shopping bag.

By melody_yesterday [228]10/01/2009
My closets would thank me to weed out the faves & the ones that will be in style forever, and stick with 30 of whatever else. This is where the vacuum bag could come in handy to compress a lot of them & store out of the way.


By pam munro [523]10/01/2009
Ha! I have to admit that I live in dollar t-shirts & tops from thrift shops and bargain stores, largely because I work at home most of the time. I am always buying more because I find that t shirts get stained so easily & are quickly off to the rag bag. I am sure that I have more than 30, counting those which end up in the back washing. $20 for a top is a lot of money for me! (Most of my better clothes do come from thrift shops, etc.)

By The Aunt [12]10/01/2009
This makes so much sense! I am going to work on identifying the 20 to 23 tops I will wear to work in a single month. Right now I always seem to be wearing the same thing over and over again although I have 100 or more tops to choose from.

By Linda [3]09/30/2009
Of course, you can find top quality clothing at consignment stores for significantly less money. I am amazed at the quality/name brand clothing I find at bargain prices. If you don't like consignment and thrift stores you can also find really great clothes at TJ Max and Marshals at very reduced prices.
Post Feedback
Add your voice to the conversation. Click here to share feedback.