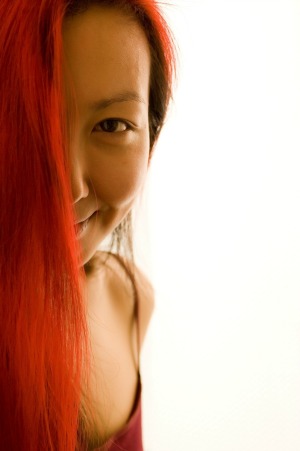 If the dyed color of your hair is stronger than you expected, you may want to adjust it. This guide is about toning down dyed hair.
Ad
---
Questions
Here are questions related to Toning Down Dyed Hair.
I dyed my hair and it turned out too red. How can I tone it down without doing too much damage to my hair?
By Marion from Sioux Lookout, Ontario
Ad
---
---
Most Recent Answer

By lynda [12]04/18/2010
Suave produces a product called, "Clarifying shampoo" which will remove any sort of buildup from accumulated hairspray to over-processing of color. However, you can take a strand test from behind your ear area of about thirty hairs, and see about how long it takes to remove a significant amt of the color using a folded white paper towel to observe the whole test/time. If you have an accumulated metallic salts from Revlon products, call their help line on the side of their products or get it from the 800 operator.

Remember, too, that the very top of your hair will be much more damaged because it is the part that gets the most damage from the sun, so it will be porous and will "release" easier, needing less time than around the back hairline, behind the ears and over the ears, which will tolerate and need longer testing time.

Coloring hair is a science, the reason for licensing and fears of liability suits, but unless you have way too strong/ wrong tint, you must be patient and realize it may take a few times to reduce it, then to "mask" the red with a bit of blue cheap shampoo(producing more of a brownish red) or with a bit of cheap green shampoo(producing more of an ashy brown). for temporary fix.

Warning: Do NOT use strong detergent, or unknown chemicals unless you want to lose your hair.

If you know what product you used, it's best to call their office with a complaint. Also, consider what color you began with. If it was not a light blonde, you added to the color tint by not starting from a very light shade. Learn from this and remember to consider adding the color of your hair to the color your tint to get the REAL results you can expect.

Adding oil, waxes will only coat and seal the color in, so I'd try the cheap shampoos first after trying to call the mfgr. number on the box for help. They most always have an emergency help line. Remember, too, that once your hair leaves your scalp, it's like a piece of nylon thread, not "alive", and rough as if it were sanded by your brushing.

Don't be fooled by ads that promise to add "life" to your hair, because that's impossible. The only "life" is in the very deeply embedded root follicle inside your scalp. Conditioners often are silicone which also coats or shines, but your goal is to gently lift the rough layers of each hair and gently coax the color out with the least of further damage, right?

Strand test/ watch timing and results desired, as well as the condition of the hair when you pull each strand to see if it is weakened too much. When the strand of hair is dry, it should not break easily, nor over stretch without springing back or coiling up. If you don't over pull it before you test the hair strands, you will know what it was like in it's strength before you tested it, then compare it to the results after testing.

Once you get results from the strand test, and apply the data learned /timing to your whole head of hair and dry it to see if you like the color, if it has reduced significantly, and what worked. Don't keep doing this to your hair once you have gotten to the color you prefer, because every time you shampoo, color will seep out and lighten, especially if it was not "permanent" or real "dye". Always check the expiration date of any coloring product and never buy it from a discount house, even if it's free, because they are usually outdated/ expired there..

If all else fails, try rinsing outdoors with 1/3 cup of sudsy ammonia in same amt. of cool water. It will be smelly, and you don't want to get it in your eyes, so be very careful to use swim googles and a water hose with your eyes/head turned to the side as you try it. Don't leave it on but a couple of minutes, then rinse, dry and test color results. I suggest this because there was the alternative chemical to what was substituted for ammonia years ago.

Beauty Supply can offer other new options in temporary "rinses" from Roux that you can use until you finally get it just right to please you, remembering that hair grows at the average rate of 1/2 " per month. If worse comes to worse, it will grow out by the end of summer and you can begin again with more information/ experience on what not to do, right?

Keep plenty of towels and cool water supply nearby regardless of which you decide to do. Strand test FIRST with whatever you do. Be very observant and have plenty of natural light to see the results, perhaps have a friend to help? Good luck and God bless and help you. : )
I know they say to only ever go one or two shades lighter/darker, but I was stupid and wanted dark brown hair. However the store bought hair dye turned out to be practically black! I haven't dyed it for a good 6 months and my roots aren't really showing and the colour is still dark.
So I used Colour B4 which is a hair dye remover. When I first did it, I loved it. It was a nice dark auburn and at least 2 shades lighter than it was. But now a week later it's gone dark again. I have read all about vitamin C tablets mixed with anti-dandruff shampoo to lighten it, so unless there are any better home remedies I will try that.
The box of hair dye remover was 12 pounds a box and I don't want to do it again just to waste 12 pounds. Please help. I do not want to bleach it because I love my luscious wavy thick hair which I am surprised I still have because of all the dying I have done before.
By EmaN
Ad
---
---
Most Recent Answer
By dph5411/12/2011
I would go to a professional hair stylist for that one!
I recently tried to dye my hair a dark auburn color and it just turned out dark with some red. I want to re dye my hair a lighter auburn. I found a home dye that is a hair lightener for dark hair. How long do I have to wait until I can use it?
By Ashley from CA
---
Most Recent Answer

04/14/2010
Wait a day or two after all the shampoo stripping to allow the cuticle layer of the hair shaft to close back down (or even after coloring in the first place) before coloring again otherwise you could end up right back where you started from with too dark of a color. When the cuticle layer is open the inner hair shaft reacts like a sponge. Also, you might want to choose at least one shade lighter (two would be better) than what you're hoping for because it's going to be 'color on/over color'.
I dyed my hair a reddish brown and it turned out more red. How can I lighten it so it's not as red? My natural color is blonde.
By Summer
---
Most Recent Answer

By Dana O'Neill S.12/04/2014
Wash your hair back to back several times & use dish soap. You will see the color wash down the drain. If thats still not enough try using a color refresher such as John Frieda in brown. It will help to tone down the red. Good luck.
I have light brown hair and want to naturally lighten it with lemon juice, but I have highlights already. Will the lemon juice make the highlights disappear?
By Alex from Liverpool, England
---
Most Recent Answer

By dusty10109/21/2011
So, I'm a (16) yr old guy with short dirty blonde hair, I took 1/2 cup of room temperature water mixed with 1 1/2 Tbsp. of pure bottled lemon juice and 2 1/2 Tbsp. of olive oil and mixed it into a bowl and damped my hair and basically just lathered it into my hair. Let it sit for 30 minues to 1 hour, depending on how light you want your hair.

And just saying, it came out fantastic, to a great light caramel color, I didn't think it would work so I tried it. The reason I added olive oil was because I found that lemon juice really dried out my hair and made it unhealthy looking and feeling, and the olive oil really moisturizes your hair and helps sustain the color. Once you sit there for 30 minutes to an hour just rinse with water. I did this in the pm, so in the am I just took a shower using deep conditioner shampoo and my hair looks great and feels great! This is a highly recommended remedy for you!
How do I tone down red hair dye? I have gone for a different dye, as my usual one wasn't stocked. Now it is too bright and looks gingery.
By Lisa from England
---
Most Recent Answer

By Barbara Smith [1]03/25/2010
I always used a medium to dark Auburn, but accidentally purchased light auburn which came out bright Red (At least to me it was too bright). I called Clairol, explained exactly what I used and she suggested a fix for me. Call them or the number on the box of the hair dye you used. They were really helpful.
I went to a new hair dresser and I am so so upset. Usually I have highlights. Today she colored my hair first and then did the highlights and I look like I am wearing a yellow wig with an orange tint! How can I wash this out?
By Lisa
---
Most Recent Answer

By Dinah Ackerson [2]03/07/2015
You should immediately return to the hair stylist/salon with your complaint and request an immediate correction for the problem. They should be able to provide a reasonable solution for you. If they do not help you, you can report them to the Better Business Bureau in your area.
7 days ago I colored my hair dark brown, it started washing out and getting a red tint to it. The hair dresser stripped it down too much and it turned orange. She said just let it grow out, so I did not pay her. I then went and got a hair color to try and cover the orange, label - Loreal 7 A. Now it's orange, red, and brassy. Can anyone help?
By phillipj from NC
---
Most Recent Answer

By PENNY K [15]03/05/2015
Something like that happened to me in 1994. That was when I decided to never do anything chemical to my hair again. I have shiny hair with a bit of natural wave (didn't know that before), and like my brown/silver color.

However, the orange... find a product that is basically a rinse, and temporary, and use that until the color sort of normalizes. Avoid any more peroxide based hair color (most) if you can. Keep trimming a bit at a time.
My hair is grey. I have been having the hairdresser do light brown for years. Of recent my current hairdresser was using 6 or 7? My hair gradually was getting darker each time she did my color. I asked to lighten it back up and we ended up with black/greenish.
So the same day she tried to correct or get the green out. It has been several months, with a new attempt every 4 weeks or so to undo or gradually get back to light, not black, and it's not happening. We are both hopeful we can process some options and make a decision what to do next. My hair was thick, short, and very easy to manage. The thickness is gone. She is suggesting bleaching. I'm getting other opinions. I would like anyone's feedback. I'm thinking I might just grow it out and be grey for awhile till it gets some length and we can start over. I would appreciate your help. Thanks for any suggestion. I'm most concerned if the thickness can be restored.
By ETG from HI
---
Most Recent Answer

By Janet [7]02/24/2015
In my opinion, I would find a new hairdresser. When they stop doing what you want, and mess up with "greenish" hair they are no longer interested.
I recently dyed my hair on my own at home and I want it to be somewhat more lighter then it is now. Does anyone know if I went to a salon if they would be able to make it lighter although I just dyed it a few days ago?
By Anna from MO
---
Most Recent Answer

By Dinah Ackerson [2]02/07/2015
You may not know that you can request a consultation with a hair stylist. If you do not know a stylist, a good salon is the best place to start. The stylist will evaluate your hair's current condition and recommend alternatives for you to consider. The stylist may require payment for the service but it would be worth having a trained and qualified specialist's recommendations.
What can I do to fix my orange/yellow hair?
By Marge from Brandon, FL
---
Most Recent Answer

By ky mamaw [2]