Stretching Shoes
Working on my feet on concrete floors wears my feet out. The comfortable shoes I had are wearing slowly. I found a new pair but they're a little snug. Does anyone know a remedy (home or store bought) that will stretch them across the top? I have a foot that's wide at the top but narrow at the heel. I need help soon.

By Sharon
---
RE: Stretching Shoes
There is a product called, "Shoe Stretch" made by Adcor Products Inc. The cost is about $3.00. It is spayed inside and outside the shoe and allows the shoe to stretch. I find it very useful because I have a hammer toe on one foot, and that shoe tends to rub, and make it sore. I have purchased this product in Famous Footwear and Target. It works on leather and man made shoes. Spray suede shoes on the inside only. (04/25/2005)
By Jean
RE: Stretching Shoes
Try taking a cotton ball and putting some rubbing alcohol on it. Then rub the cotton ball with the alcohol on the inside of the shoe. I've got one of the wooden shoe stretchers that I just put it on and let it sit until it dries. It's in the shape of a foot and you either turn the arm clockwise or counter clockwise to control the width you want it to be. It also comes with some plastic inserts that you can put into the wooden shoe stretcher for bunions, corns, etc. You can get them at Nordstrom's and a lot of other places. If you have this problem it might be worth the investment. Not sure of the price but really not bad and worth it's weight in gold when you think of how bad feet can hurt with shoes that don't fit right.. :) (04/25/2005)
RE: Stretching Shoes
There is a shoe stretch at Walmart also, in a little spray bottle. (04/25/2005)
By madison
RE: Stretching Shoes
I simply pour rubbing alcohol all over the inside of the new leather shoes or boots, then put them on with the socks you plan to wear with them. Don't take them off until they are completely dry. This will take all day, so it's good to start this in the morning, so you can wear your shoes all day & evening if necessary. If you do this in the summer, you will enjoy the cool feet. When dry, your leather shoes or boots will be conformed to the shape of your shoe. Never go on a long walk or hike without preparing your shoes or boots like this and you will have no problems with your feet, as a result. (07/16/2005)
By Yolanda
---
Stretching Shoes
My husband bought new shoes and they are too tight. Is there anyway to stretch the width?
Mary from Newark, CA
---
RE: Stretching Shoes
If you know of any shoe repair places they sell things to stretch your shoes. And once you buy it you will always have it when needed. (10/08/2008)
By Darlene
RE: Stretching Shoes
I've never done this, but I've read about it. Put a heavy plastic bag in the shoes and tie them tight. Pour water in the bag and shut it tight with no air pockets. Put the whole thing in the freezer and as the water freezes it stretches the shoe. I would love for someone to do this and let me know how it works. And buy shoes at the end of the day when your feet are the biggest.
Susan in Omaha (10/08/2008)
By Susan
RE: Stretching Shoes
I have the same problem; wide at the front and narrow at the heel. I also have bunions which makes it extra difficult to find shoes that fit. I finally bought a shoe stretcher. It is a wooden thing in the shape of a foot and you can adjust the width by turning a metal screw. I think you can buy them at Walmart if I am not mistaken. Can't remember where I bought mine. Anyhow it is invaluable for me. (10/09/2008)
By Elaine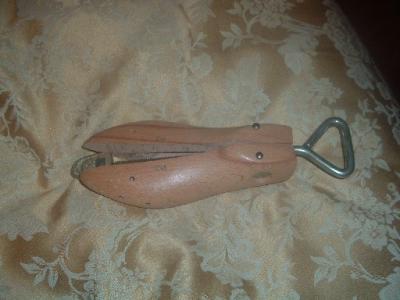 RE: Stretching Shoes
I have done the freezer bag with water and freezing shoe thing and it does work, if the shoes are leather. If they are from a man-made material, they will not stretch. (10/09/2008)
By Lois
---
Stretching Shoes
When I buy new shoes they are always tight at the front even though they are the correct size. I break them in gently around my appartment, but sometimes they still remain tight. The shoes I buy are not fashion shoes, so I was wondering if anyone has a solution to this problem? Many thanks.
Helen x
By Helen from U.K
---
RE: Stretching Shoes
Maybe you need to go up in size or get a wide width shoe or try different styles than you usually get. What you describe is not uncommon. Shoes are notoriously hard to fit. (03/07/2010)
By OliveOyl
RE: Stretching Shoes
Get a shoe stretcher, it also has a little spray bottle. Good luck. (03/07/2010)
By kffrmw88
RE: Stretching Shoes
They may be the right size lengthwise, but in some respect they are "not the right size" for you. It could be in some style respect like you need a wider toe front area than the styles you normally buy.
Try tracing your foot with the full weight of your body on your foot and outline your bare foot. Cut out shape and compare to the bottom of the shoes you find too tight. It probably will extend outside the sole of the shoe. You could take cut out with you when you buy shoes. (03/08/2010)
By PIKKA
RE: Stretching Shoes
A co-worker gave me this tip and I have used it many times over the years. If the shoes are leather pour alcohol in them and immediately put them on and wear them. The shoe will fit from then on and the alcohol dries quickly. If it is just one place that pinches, just wet that place. This only works on leather. (03/11/2010)
By Ann
---
Stretching Shoes
I would like to know how to stretch shoes.
By Linda
---
RE: Stretching Shoes
To stretch shoes, you need to wear them. (06/14/2010)
By teensout01
RE: Stretching Shoes
Put on some thin white socks. Pour rubbing alcohol on the part of the sock where the shoe needs stretching. Put the shoes on and walk around in them for a few hours. Your shoes should be stretched out just where you want them to be.
This works for leather shoes, I'm not sure about man made materials.
Good luck! (06/15/2010)
By metroplex
RE: Stretching Shoes
Alcohol works for me. I actually have poured alcohol in the shoe and put it on. You can stretch them too much so go slow. (06/16/2010)
By Lilac
RE: Stretching Shoes
Buy shoe tree stretchers. It is a wooden foot form that has a screwing motion to it. Insert the obvious toe part into shoe, dial until it fits fully. Then slide the back into place, and wait for a few days to see how much it has stretched. Remember leather shoes can be stretched. Man made fabrics of any kind can't. You will tear the shoe.
If in doubt, look up a shoe shop that sells quality shoes. If they can't help stretch them for a fee, they may know of a Shoe shop/Leather Repair. Sadly, this is a dying art. We grew up with shoe shops, where you took your shoes during the week to be highly polished if you could afford it. My father's went about monthly. Cost w as about $.50. Kept our shoes in repair, fixed straps, etc. but there was no such thing as shoes not made of leather unless it was 'flip flops' known then as thongs or canvas tennis shoes. Quality workmanship at the best. (06/16/2010)