Caring For A Person With Dementia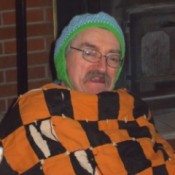 Alzheimer's is a type of dementia. There are many other types of dementia. It bothers me when people always say 'Alzheimer's'. My husband has FTD Dementia. Michael J. Fox has Parkinson's dementia. There is also Huntington's dementia, ALS dementia, and many others. It would be nice if one would say 'dementia', or 'type of dementia' instead of always calling dementia 'Altzheimer's'. It is very hard on the caregiver, and they need to be recognized also. :o)
By Linda from Sarcoxie, MO
Feedback
Read feedback for this post below. Click here to post feedback.

By
03/03/2012
I don't mean to be rude but I think you are making a mountain out of a mole. My mother in law has Alzheimer's and really as long as people realize these conditions do occur and support the caregivers of these people why does it matter what it is called. I mean they are very similar and are a sad condition for the person and their families. I don't think people mean anything by calling it alzheimer"s instead of dementia. There are lots of people who don't know anything about either one. I think instead of worrying about what it is called we should be educating people on what it consist of and the help the caregivers could use.

By
03/02/2012
He does look cute all bundled up. No cold bug gonna get him! You are a blessing to him. Try to find some way to take time for yourself so you don't burn out.

By
03/02/2012
My Dad had Parkinson's disease from when he was 38 until he died 5 years ago at age 75 and I never once had heard anyone refer to it as dementia.
By
03/01/2012
My grandmother had Parkinson's Dementia. She spent the remainder of your years sitting on the couch with her head in her hands, chewing her own tongue.

Please don't take this wrong, but people with any kind of dementia need every shred of dignity they can get. I would never have put a photo of her anywhere, much less a blog.

But if your husband doesn't realize what people are seeing, then it probably doesn't matter to him.

By
03/01/2012
I hear you! When I was young, my great grandma had Alzheimer's. She was in a nursing home. My grandma now has dementia, but it is not Alzheimer's. I don't know what type it is though, but I agree "demetia" is a better term if the type is not known.

Thank you for sharing a pic of your husband (he looks cute all bundled up!) and God bless you for taking care of him. My step-dad has a tough time with grandma but we love her a lot so we help her as best we can. It is always helpful for me to remember that grandma is not being difficult on purpose, but that her dementia makes her short-term memory non-existant, and she really doesn't remember asking the same questions over and over, among other thigns! She is 92 and we are grateful just to still have her here.
Post Feedback
Add your voice to the conversation.
Related Guides
Related Posts