Garden: Toilet Paper Seed Strips
About two weeks ago, a gardening tip on here talked about cutting toilet paper into strips and gluing seeds onto the strips. I found it hard to cut into strips. What I did was I rolled the paper out the length of my table. Keeping in rows along the length nine to a square then let it dry. Roll it up and then cut it into strips. It worked out well for me. thanks for the idea.
Source: ThriftyFun
By Laura from Ocala, FL
Feedback
Read feedback for this post below. Click here to post feedback.

By
04/14/2011
Seems to me it'd have to be some sort of water-based glue. When watered, it would soften and break down. Something like Elmer's, perhaps?

By
04/14/2011
I too am interested in knowing the type of glue you used! I just paid $3.00 for two strips of radishes!

By
04/09/2010
What kind of glue do you use? This is a great idea for those really small seeds that you can't seem to get in the ground right.

By
04/08/2010
I did the same thing in my garden. The radishes and lettuce, fennel and Chinese cabbage have sprouted fine but the spinach did not do well nor did the carrots. But the weather has been unseasonably cool also which might be affecting germination.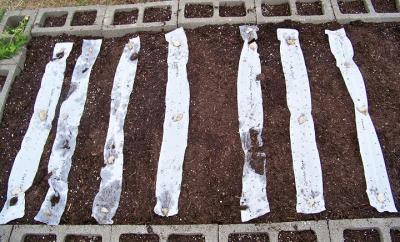 Post Feedback
Add your voice to the conversation.
Related Guides
Related Posts