Planning Your Outfits
I got so tired of having NOTHING to wear, I was going crazy. I decided to tear into my closet and put some outfits together including jewelry and shoes and write each one down. THEN I decided to photograph myself in each outfit and place the individual photos in a protector sheet. This allows me to make notes on the individual outfits as well as the ability to "take my wardrobe with me" as I shop for jewelry and/or different items that will match what I already have.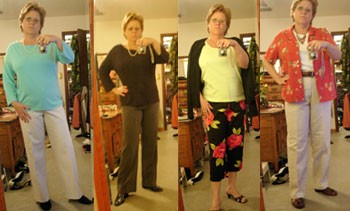 By Mitzi from DeLand, FL
Feedback
Read feedback for this post below. Click here to post feedback.

By housewife heather (Guest Post)
05/25/2008
Those are good ideas! Once a year my DH and I turn all the closet clothes on our hangers backwards. After I wash something I hang it back in right side. After a year I know what clothes we aren't wearing anymore so I can donate them.

By Maria in VA (Guest Post)
05/11/2006
A GREAT way to get lots of mileage from your clothes is to organize your clothes according to style. Most people organize by color but if you do it by style, it's a lot like shopping everytime you go into your closet. For example, put all your camis together, then all your pants, then all the jackets, etc. Pick a cami, move over to your pants, then coordinate it with a jacket. You'd be suprised how many outfits you can come up with!

By Cadensnana of Delaware (Guest Post)
04/14/2006
I love your idea of taking pictures because I sometimes get to a store and can't remember the specific color or what I already have at home.

When I worked full time and was very busy, on the weekends I would plan my outfits for the following week and write them down. That way I had the right blouse to wear with the suit or pants and wasn't wearing the same outfit every Tuesday for instance. In the mornings I would look at the list and was dressed in no time. I found it was much easier for me than standing in front of my closet every morning trying to figure out what I had worn the day before and what suit would go with what blouse. Also if I were having an important meeting one day during the week and wanted to wear a specific outfit, I could plan ahead to have that outfit ready for that day. To be more organized you could also hang those outfits together in the closet on the weekend. Then every few weeks I could just start over using the same outfits. Much like we do with meals for dinner. A lot of people thought I was too organized, but it took a lot of stress off me and saved a good 5 minutes every morning trying to decide what to wear. Now when I travel, I make a list of what outfits I plan to wear on certain days. It doesn't always work out that way, but it makes it easier for me. Less stress is best.

By Sandy (Guest Post)
04/13/2006
I too have a lot of clothes and sometimes forget what is in my closet. One way I try to keep up with styles is by using the new catalogs that come in from stores I would like to shop at and looking at the new outfits. I then go to my closet and try and replicate the look with clothes that I already own. Usually I am very happy with the results.

By
04/12/2006
What a great organized idea, and think of the money you are saving.That way you can find inexpensive jewelry and accessories that will flatter the outfit.It is funny but a lot of times that is what people zero in on.Another good idea to go along with what you have done is to take a picture of your shoes and put them on the end of the shoebox that you may store them in, so that you know what you have.A bit of humor for me is that I mainly have two pair of shoes.In fact, I know the subject is not shoes, but once you find a really comfortable pair of shoes, if you can afford it go back and get different colors.Money is very tight at this time for us, but the last two pair of shoes I had were so comfortable.I am wearing them out.I don't think they make either of them any more.So I wish I had taken my own advice.Kersti

By
04/12/2006
What a great idea, especially when getting out the clothes for the new season. You've verified that things still fit, and you're less likely to buy unneeded clothing.

By Mary Bryan (Guest Post)
04/12/2006
Teriffic idea! (Loved the capri length pants). Thanks for this tip.

Post Feedback
Add your voice to the conversation.