When I started dating my husband, I couldn't believe my eyes the first time I went inside his parent's one bedroom house. There were 6 people in the family, all of the rooms were tiny.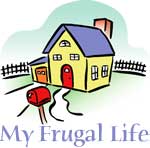 The bedroom was so narrow all that would fit in there was a single bed with no space on either side. You had to get on top of the bed to make it. Mom and Dad slept on the sofa bed, some of them slept on pallets and one on a cot in the kitchen.
The bed was too small for Mom and Dad, and since my future husband was the only boy in the family, he got the bedroom.
The back of the house had no siding on it, so when you were in the bathroom you could see the house next door through the tiny cracks in the wall. There was no running water in the bathroom, so the toilet had to be flushed with a bucket of water. They didn't have a hot water heater so Mom had to heat water on the range to wash dishes and for baths.
A small gas stove heated three rooms, but the bathroom had no heating or cooling. The air conditioner was a big, noisy window unit that put moisture into the air instead of taking it out, so someone had to run outside once in a while, use the water hose and fill it with water.
They were forced to live a very frugal life and came up with their own frugal ideas out of necessity. They are a lot of the same tips that I have seen all these years later at the ThriftyFun website.
After the kids all married and moved out, Dad inherited a little money when his sister passed away, so they were able to buy a nice home. Dad has since passed away, but Mom continues to live a frugal life. She has no desire to use a newfangled computer, but she is always pleased when I tell her some of the thrifty tips I run across at ThriftyFun.
Amuck from Fairview Heights, IL
Do you have a frugal story to share with the ThriftyFun community? Submit your essay here: http://www.thriftyfun.com/post_myfrugallife.ldml