Recipe for a Happy Marriage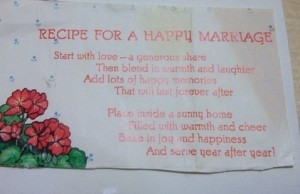 Just being sentimental. ;-)
Ingredients:
Start with Love ~ a generous share
Then blend in warmth and laughter
Add lots of happy memories
That will last forever after
Directions:
Place inside a sunny home.
Filled with warmth and cheer.
Bake in joy and happiness.
And serve year after year!
Servings:
60 years in August 2012
Source: I found it long ago on gift wrapping paper I had saved. I used it for a bookmarker in my cookbook
By Great Granny Vi from Moorpark, Ca.
Feedback
Read feedback for this post below. Click here to post feedback.

By
04/16/2012
This is good advice. We choose how we react to life, and how we treat others. Life has to be happier if you choose to react with as much love and kindness as possible. It's a habit we should all foster. Thank you! I hope all the young people on TF read this.

By
04/16/2012
And who would know this better those who have been married as many years as you and Leonard, GGVi :-) I wish everyone would take those words to heart because the world would be a much better place! Congrats in advance to you both!
Post Feedback
Add your voice to the conversation.