I recently received a box full of hand-crochet doilies that my grandmother made. Any ideas what I can do with them?

JoAnne from Bushnell, FL
By JoAnne
Ad
---
By Tammy 02/21/20080 people found this helpful
Well, depends how big they are you could sew them together and make a nice blanket for a grand baby or even a shaw. Many uses even great for back ground for pictures on a scrap book.
By LuvMyGingerKids 46 316 02/21/20080 people found this helpful
If any are particularly unique, I would frame them either separately or 3 or 4 in the frame.

Be sure to store several safely for when your children are grown. Guaranteed, they will appreciate and treasure them when they are adults.
By Shirley Darby 7 47 02/21/20080 people found this helpful
Handsew (after carefully pinning on a flat surface) to the front of a t-shirt. I put a gray/blue one on a royal blue shirt and it looked great. The shirt wore out and I removed the doily for use another day. I may put it on the back of a cotton camp shirt I just bought.
By Noella 11 381 02/21/20080 people found this helpful
I think they would look nice placed against a piece of black velvet and framed. If they are the kind that stands up, they could be starched stiffly and placed in a box frame.
By Mary Lou 14 765 02/22/20080 people found this helpful
Doilies make wonderful coverlets or bedspreads. Find a pleasing combination of the same shape(round looks particularly good) Handsew them in rows and then sew the rows together to fit the bed you have in mind. Alternatively, make panels to use as curtains. Smaller ones make lovely sachets. Cut 2 pieces of thin cotton(I use a lightweight muslin) slightly smaller than the doily. Fill loosely with potpourri and sew closed. Sandwich this little pillow between two doilies of the same size. Weave thin ribbon around the doilies, going through both doilies with it and tie a small bow at the top. Put it in your closet or drawer to freshen there or if u use lavender, put it between your pillow and pillowcase for sweet dreams.
By pmclausen (Guest Post) 02/22/20080 people found this helpful
Along with other wonderful items from my grandmother, my family also has a collection of doilies. My mom has used many of them to collages. Some included special cards, jewelry, pictures, etc. Some are put in antique box frames and others are in regular frames, depending on the thickness of the items. We were sure to put the collages together in ways that we can change them in the future.
By Elizabeth (Guest Post) 02/22/20080 people found this helpful
I have starched them, then cover bowl with plastic film to take the shape of the bowl. After use as a candy dish.
By ELIZABETH 1 9 02/22/20080 people found this helpful
Cover a bowl with plastic film,starch the doily and place over bowl, let dry. These can be used as candy dishes.
By Edith (Guest Post) 02/22/20080 people found this helpful
I bought a brass ring to fit and whip stitched mine to the ring. I then hung it on my bedroom door.
By Igloomom (Guest Post) 04/04/20080 people found this helpful
I framed a rose doily potholder inside of an antique frame. I use this for a serving tray instead of a wall hanging.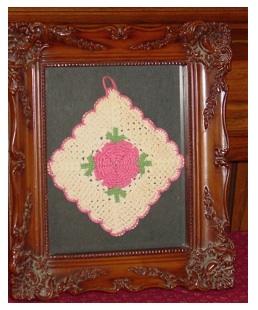 Archives
Thrifty Fun has been around so long that many of our pages have been reset several times. Archives are older versions of the page and the comments that were provided then.
Put Tip or Request Here
---
RE: Uses for Doilies
I love doilies and runners and such. Use them as decorative protectors on the back of your sofa (where the head would hit), or on the arm rests. Lay them over the top of your decorative bath/ hand towels while they hang on the towel bar. I have a small 3 -shelf towel holder, and I place embroidered hand towels or doilies over the edge of the shelves, just enough so that the decorative edge or lace shows, then put the bath towels folded on top. Makes the bathroom look extra special, even when the shelves are plain and inexpensive. Put doilies under lamps or plants, or under your candy bowl. I have a china cabinet full of treasured china and mementos, and I put doilies under the china pieces. It really shows off the china against the dark shelves, and brightens the whole cabinet. Just a few ideas to get you started. (09/07/2005)
By Sue from Boston
RE: Uses for Doilies
Put them on the arms of chairs or sofas. I've seen pillows made with doilies sewn on the outside, really pretty. Put them in a picture frame with the background color matching your decor, this would be a pretty addition to any room. Put them down the middle of a table to use as a table runner. Sew them on a pretty scarf or blouse that needs dressing up. (09/08/2005)
By badwater
RE: Uses for Doilies
I have seen a friend put one in a frame without a front (no glass or plastic to cover) and then she hung her earrings on it - she put the frame next to her dresser and it was decorative as well as useful. (09/11/2005)
By Tina
RE: Uses for Doilies
I use doilies all over my house because I have inherited so many and they mean a lot to me. I use them in traditional ways on end and coffee tables, dressers, night stands, in the china hutch, on the sideboard, on bookshelves even, in the bathroom over plant stands, one even on top of the refrigerator, don't ask why, no one sees it up there. I use 3 large round ones down the center of my dining room table instead of one long runner. Some picture frames sit on them. I don't have any knick knack or vase setting on bare wood, there is a doily under it. I sewed one onto a throw pillow with a small handmade rag doll. One tiny one, I starched stiff as a board and sewed tiny silk flowers and buttons onto it and I wear it as a pin on suits, jackets. I line serving baskets with them for rolls or bread. I line serving trays for cookies with doilies. I use them as place mats, and small ones as drink coasters. I love them! (07/11/2007)