Permanent marker is called "permanent" for a reason. It's very difficult to remove. While difficult to remove, there are some things you can try. This is a guide about removing permanent ink from fabric.
Solutions
Read and rate the best solutions below by giving them a "thumbs up".
I got a marker stain on my Coach bag and I didn't know how to get out. I looked up tips and "none" were working so I came with a great idea to add it all together. I got a rag and put soap, hydrogen peroxide, and sunscreen on it, mixed it together and what do you know the stain came out in 4 or 5 minutes.
By ashleypink
By
Share Your Feedback: Once you try any of the above solutions, be sure to come back and give a "thumbs up" to the one that worked the best for you. Do you have a better solution? Click "Share a Solution" above!
Questions
Here are questions related to Removing Permanent Ink (Sharpie) from Fabric.
My three year old daughter got ahold of a blue marker and drew all over her self and on my couch cushion. The cushion is a tanish color. What can I use to get it out?
By Amanda D
By
I have a black backpack with silver Sharpie permanent marker on it. I need the writing off of it before tomorrow. Any suggestions? I can't go buy a new backpack or anything at the store. I'm on a budget. Any ideas?
By
---
Most Recent Answer

By jess01/06/2011
I have had good success getting black Sharpie off of a backpack with Rubbing Alcohol. I'm not sure how different the silver is from the black, but it would be a good place to start. Worst case, it might just lighten it.

Good Luck, let us know how it turned out.
While using a Sharpie permanent marker, I got some on my sweater which is 65% polyester and 35% cotton. Any ideas on how to remove this stain?

Thanks,
garnetgirl9 from Stoughton, WI
By
---
Most Recent Answer

By Poco (Guest Post)04/13/2006
Try spraying the ink spot with hair spray then rinse with cool water.
My daughter used the Sharpie pens on her backpack a while ago; how do you get the ink out?
By JSB
By
---
Most Recent Answer

By ashleybunkin01/16/2012
I used hand sanitizer on the marker stains. Pour the sanitizer on the stain and blot until all is removed. This worked for me. Hope this helps.
My 2 year old found a blue Sharpie and before I could get it out of his fat little hand he had drawn several streaks across my tan upholstered love seat. I used rubbing alcohol on it, but the streaks still show. Help! :)
By Rene from western MA
By
---
Most Recent Answer

By robynfederspiel11/23/2011
Here are some links I have found on my favorite site. I hope this helps!
http://www.ehow.com/how_4699483_clean-sharpie-marker-off-anything.html

Give the little guy a hug!
Blessings, Robyn
How do you get permanent black marks out of a tan all weather coat?
By Becky B.
By
---
Most Recent Answer

By Karyn0101/08/2012
Supersaturate it with hair spray. Then wash as normal. It may take two or three washings, but for certain the ink will come out.

Karyn
Is it possible to get black marker out of a pure white hand-made nightgown? I finally found that perfect nightgown, it is pure white, hand-made, and it was a big splurge for myself, but I may have ruined it. I got black marker spots on it, and I was looking for tips, any advice, can it be saved, all answers will be muchly appreciated.
By Amber M
By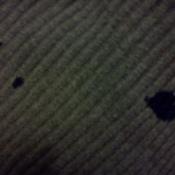 How can I get marker stain out of my favorite sweater? My son got a hold of the markers. Please help.
By Ingrid
By
---
Most Recent Answer

By frugalsunnie03/08/2012
There are some good links on this page to removing inks from clothing. If those don't help you, try here:

http://laundry.about.com/od/stainremoval/a/stainsaz.htm

The page opens to stains A-C, you'll have to click a few to get to the ink page.
I have a Sharpie ink stain on my newish, pricey, top. It's a 100% cotton filigree top. I tried nail polish remover, alcohol, and Zout. Only some of it came off and it is still very obvious. I would appreciate your help.

By C.J.L.
By
What can I use to get black marker out of denim fabric?
By Angie from Lumberton, NC
By
---
Most Recent Answer

By laura34304/10/2010
Try hairspray.