Display Cookie Cutters on Walls
Here's a way to display my cookie cutters. Some are gifts, some are ones I bought, some are my mom's, and some are my grandmother's. I can't tell you what wonderful memories they all hold for me, as I can remember why I bought or received every one. I get lots of compliments on them, too!
By Margie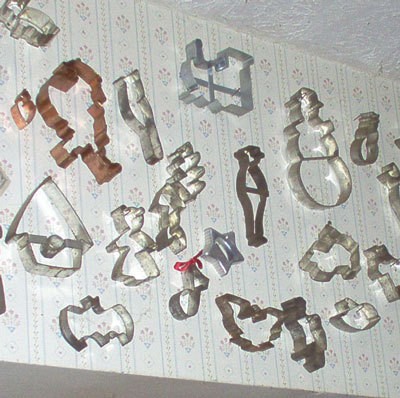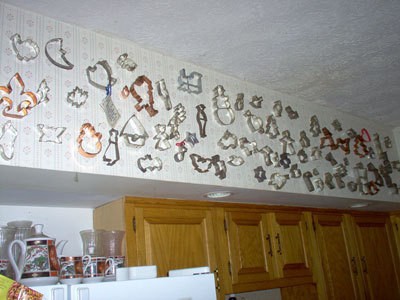 Feedback
Read feedback for this post below. Click here to post feedback.

By
06/11/2006
Any ideas for ones you cannot hang? I have some vintage tupperware ones that do not have holes for string or hooks...some of the handles broke off so my DH glued pen caps on! What ingenuity!

By Laura (Guest Post)
04/02/2006
THEY LOOK TERRIFIC !!! . I WAS THINKING OF DOING THAT ALSO BECAUSE YOU CAN SEE EACH ONE, BUT I DO NOT HAVE THE SPACE FOR ALL OF MINE, SO WHAT I DID WAS I GOT THICK BLACK TWINE AND STRUNG THEM IN BUNCHES AND HUNG THEM AROUND A CURTAIN ROD, IT GETS PRETTY HEAVY, AFTER 7 OR 8 BUNCHES OF 25 OR MORE ON EACH BUNCH BUT NOW I HAVE THIS FABULOUS VALLANCE THAT IS OVER MY SINK, HAHAH AND THEY ARE EASY TO GET TO SO I CAN USE THEM ,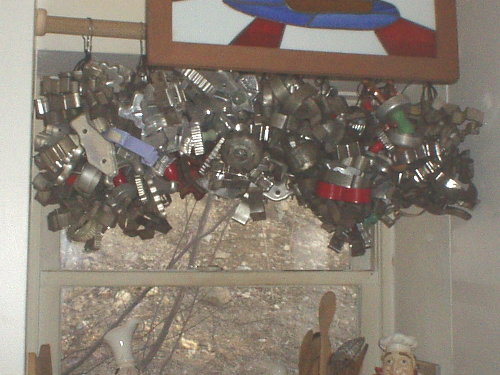 By Sherry (Guest Post)
08/16/2005
I absolutely love your display of cookie cutters! I have been collecting cutters for 42 years and I think I will decorate with mine as you did. Thanks!

By LadyLeonesse (Guest Post)
08/15/2005
What great cookie cutters! Id love to have this nice a collection :)
Post Feedback
Add your voice to the conversation.
Related Guides
Related Posts