Pour enough apple cider vinegar in glass (before adding funnel), to get it as close as possible to bottom of funnel. The smell of vinegar attracts them to the funnel and in they go and can't get out. You'll see them walking around inside the glass trying every way possible to get out. They'll get tired and drown in the apple cider vinegar. Place these where you see them the most, in the kitchen, bathroom, laundry room, etc. They like moist areas. Remember to redo every couple days. I tried plastic cups, but for some reason, they go to the glass better. Good luck!
By adbdnc from NH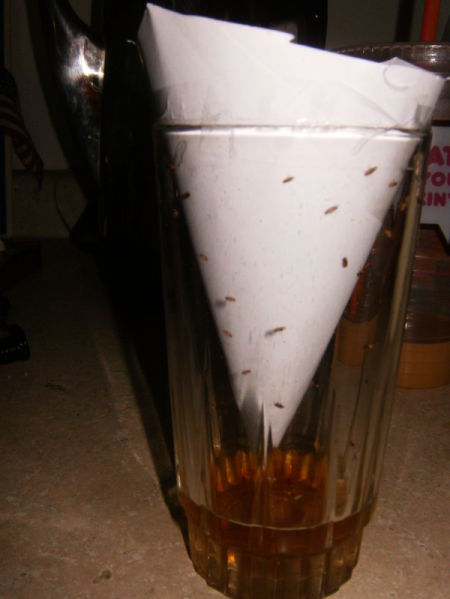 Feedback Forum
Feedback about this article is posted here. Want to contribute? Click above to post feedback.

By Dee [3]09/13/2011
You can just add a few drops of dish soap to the apple cider vinegar and you do not need a funnel. I use glass baby food jars.

By mary knight [20]09/13/2011
I wonder if this, or similar, would also work outside for no-see-ums and gnats in the grass. We have a terrible problem. Another thing you could try is take a 2-liter bottle or plastic gallon with apple cider vinegar in it as attractant. They will climb in, but cannot get out the narrow opening, I'd bet. You posted a great tip, which I will remember and try.
Post Feedback
Add your voice to the conversation. Click here to share feedback.