Botanical Name:
Borago officinalis
Common names:
Borage
Description:
Borage is loved by bees and gardeners alike for its bright blue, star-like flowers with prominent black anthers and light-catching, silvery-haired foliage. Plants may have white or pink flowers on occasion.
Life Cycle:
hardy annual
Exposure:
full sun or partial shade
Cultivation:
Borage will do well in any type of garden soil, but its long taproots keeps it from transplanting well or growing well in containers. Plants are annuals, but readily self-seed once they become established. Sow seeds in the mid or late spring for use in the summer, and again in mid summer to keep replacement plants coming. In mild areas, sow in the fall for early spring and summer blooms.
Propagation:
seeds, self-sowing
Parts Used:
flowers and leaves; the entire herb has a cucumber-like fragrance
Harvesting and Storage:
Gather leaves and flowers when plants are just beginning to flower. Collect them early in the afternoon when the sun has dried the morning dew. Discard any leaves and flowers that are torn or damaged.
Medicinal Uses:
(leaves and flowers) used as a diuretic, relaxant, inhalant for chest colds and works to aid in milk production for breast-feeding. Borage is also rich in nutrients like calcium and potassium.
Culinary Uses:
(leaves and flowers) soups, garnishes; fruit punch, cocktails,
Other Uses:
skin lotion
Notes:
Because of the presence of nitrate and potash, Borage will emit tiny sparks with a slight explosive sound when burned.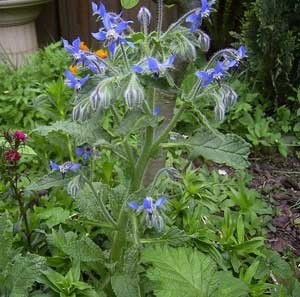 About The Author: Ellen Brown is an environmental writer and photographer and the owner of Sustainable Media, an environmental media company that specializes in helping businesses and organizations promote eco-friendly products and services. Contact her on the web at http://www.sustainable-media.com
Comments
Add your voice! Click below to comment. ThriftyFun is powered by your wisdom!
Borage has recently become my absolute favorite herb blossom! It is extremely short-lived, with flowers usually not lasting much longer than 24 hours. You can use their flowers, leaves, seeds, and oils for medical and cosmetic purposes. It's a great herb to just help your body keep working properly. It's also a cooling diuretic.
Borage can be grown in large gardens or small pots. They spread relatively easily and produce absolutely gorgeous blossoms! In this photo, one of the mature borage blossoms that my husband grows on our front porch has caught a perfect little raindrop. I thought it looked as if it were holding and displaying a precious jewel.
Gardening connects us with nature, which connects us with our Lord. It is such a blessing when you are able to provide healthy options for yourself and your family and it's very rewarding when God gives you the gift of opportunity, like this raindrop shot. It could've been just another day, but my eyes spotted this beauty. God does this everyday in every aspect of our lives. Do you have the eyes to see it?
By Chelle152 from Coquille, OR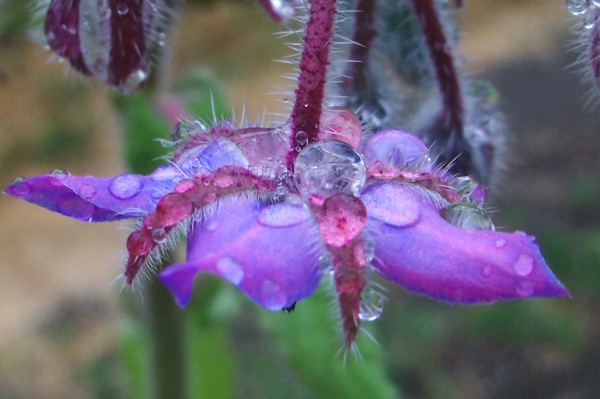 October 25, 2011
0

found this helpful
Seriously, you should consider making a calendar for sale with your photos of blossoms. I'm getting to where I can spot your photos before I see your name. Beautiful!
~Peggy
October 25, 2011
0

found this helpful
The color made me stop and really look at this flower. Raindrops always enhance a flower photo. Good Job. GG Vi