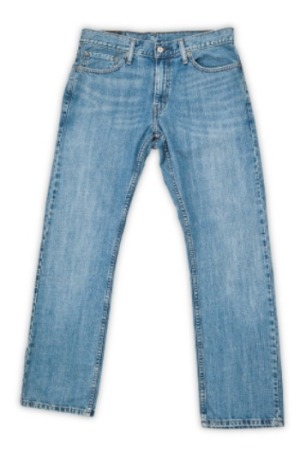 Permanent marker can be a tough clothing stain to remove. This is a guide about removing permanent marker on jeans.
Ad
---
Questions
Here are questions related to Removing Permanent Marker on Jeans.
My daughter got permanent marker on her pink jeans. How can I get it off? I wash them and used Shout, but it didn't work.
By Cheryl from Arabi, IA
AnswerWas this interesting? Yes No
Ad
---
---
Most Recent Answer
03/17/20110 people found this helpful
I used goo gone and rubbing alcohol, and it came out.
---
Solutions: Removing Permanent Marker on Jeans
Do you have knowledge about this guide topic? Feel free to share a solution!
Archives
Thrifty Fun has been around so long that many of our pages have been reset several times. Archives are older versions of the page and the comments that were provided then.
My son has a pair of toddler jeans that he got black permanent (Sharpie) marker on, and I've tried using rubbing alcohol and hairspray to get it out, but no luck! I just can't stand to throw these jeans out (I'm way too thrifty, or maybe just plain cheap! LOL), but the marks are very noticeable. Any suggestions on something that might work, or is it a lost cause?
Thanks for your help!
Evan's "mama" from Kenosha, WI
Answers:
RE: Permanent Marker on Jeans
Tip: "Permanent Marker Stain Removal from Clothing"
You can try to remove permanent marker stains by rinsing the stains with cold water until the water runs clear. Place the fabric on a paper towel, then saturate the stains with rubbing alcohol, using a cotton ball as a blotter. Change paper towels as necessary as it absorbs the color. Wash the garment in the hottest water possible for the fabric, adding bleach (color-safe for colored fabrics), then rinse in warm water. Unfortunately, permanent marker is called permanent for a reason and cannot always be removed.
(04/20/2006)

By mobo
RE: Permanent Marker on Jeans
Try "Scrubbing Bubbles" I don't know about jeans, but it works when someone uses a permanent marker on an office white board.
(04/20/2006)

By mallie clark
RE: Permanent Marker on Jeans
I'd use the stains to make a design -- how about train tracks running all over them and then paint a train on them near the bottom cuffs? Or a road/ cars or clouds/ airplanes or water/ boats. With a little imagination, you could have a pair of "boutique" jeans that sell on eBay for big bucks! (04/20/2006)

By Sueey
RE: Permanent Marker on Jeans
Keep them as play pants if you can't get the marker out. (04/21/2006)

By Katmommy
RE: Permanent Marker on Jeans
Buy a colorful patch, with his favorite cartoon character etc. and put it over the stain. One of a kind jeans especially made for him. (04/21/2006)

By Trina
RE: Permanent Marker on Jeans
Try using something like RIT dye to dye the jeans they have dyes in jean color. (04/21/2006)

By patg
RE: Permanent Marker on Jeans
You can used olive oil or coconut oil rub it on the jeans to soak in first them wash in warm soapy water. (04/22/2006)

By Sheila
RE: Permanent Marker on Jeans
Goof off works wonders with permanent marker stains even dried latex paint. Test it in a small area first. (04/25/2006)

By Lynsay
RE: Permanent Marker on Jeans
Hi, I just did a search on how to get Sharpie out of fabric - my son just made a mark on my new furniture. I read that white toothpaste MIGHT work - I assume rub it in and put newspaper on the back to absorb the color that bleeds out. Will re-post if it works or not. (06/20/2006)

By Patty
RE: Permanent Marker on Jeans
Try using rubbing alcohol. It doesn't work so well on black or orange, but awesome on red. Good luck! (11/12/2006)

By Julila
RE: Permanent Marker on Jeans
You should try:
WD-40
Anti-bacterial hand gel
Cooking spray
Nail polish remover
Goof Off
(03/19/2007)
By Marissa
My cousin wrote on my jeans with black permanent marker. How do I get it out? They have not been washed.

Cassie from Lee's Summit, MO
Feedback:
RE: Permanent Marker on Jeans
Nail polish remover, I believe will do the trick. It may take a few tries, but it should come off. Wash well afterwards. You might try Goo Gone. I think it takes off permanent marker as well as sticky messes. Good luck.
(06/21/2007)

By hedera
RE: Permanent Marker on Jeans
I have removed permanent maker with De-Solv-it. It is citrus based and is safe for you and clothes. Nail polish remover may remove the color like bleach would. WalMart carries De-Sol-it on the cleaning isle. Hope this helps. (06/22/2007)

By Phyllis
RE: Permanent Marker on Jeans
Gently rub over the marker stain with a Mr. Clean Magic Eraser. (06/23/2007)

By AmericanLadyBug
RE: Permanent Marker on Jeans
Hand sanitizer works great. I accidentally got Sharpie on a pair of twill pants. If you can't put something on the stain immediately, work on it with the hand sanitizer, then spray Zout on it before putting it in the wash. (07/09/2007)

By Shannon
RE: Permanent Marker on Jeans
There's this thing I got from an art store *Utrecht*. It was a set of different things to get rid of stains. Inside there's a thing called Kiss Off which supposedly gets off any stain. Right now I'm taking graffiti marker off a pair of jeans and I'm using it and it's working. Before this I used bleach, regular bleach for colors and regular detergent. Kiss Off worked the best. (02/06/2008)

By xCarliej31x