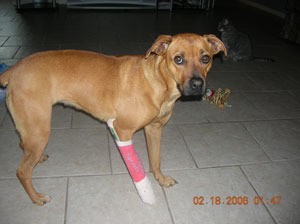 What breed does my dog look like she has in her? Looks like Boxer mix, but not too sure.

Meghan from LA
By Meghan
Ad
---
By Guest (Guest Post) 05/17/20080 people found this helpful
I'm sorry I don't have an answer for you, but she is a CUTEY! I sure hope her little leg has gotten better. :)

My dogs are mixes too. We just rely on what the humane centers told us, but you never really know do you?
By Amy 4 19 05/18/20080 people found this helpful
I grew up with a male dog that looked very much like that and he was part boxer. We actually raised boxers for a while, and I bet you anything that dog is part boxer. My guess is boxer lab mix. What a sweet face!
By Holly 3 141 05/19/20080 people found this helpful
Ahhhh, what a face...hope her leg heals real soon. xoxo to her, sorry but you did not include her name.
By Janette 1 1 05/19/20080 people found this helpful
Looks like Boxer/Lab to me as well. Very cute!
By Kim Churchman 3 1,277 05/19/20080 people found this helpful
I'm feeling dubious about the boxer, because that breed has slack lips. She could be part min pinscher, part smooth terrier...does she put her ears up to a point naturally, or are the ears meant to flop at the tips? If they point up, she could be part red heeler.
By Meghan 4 4 05/20/20080 people found this helpful
Her name is Sweetie. She isn't a small dog either. I know med. sized dog clothes won't fit they are too small. And her leg healed well the pic is a good two years old. Tough dog though has gotten hit twice and survived both times. Thank GOD.

A little more about her is: she is very hyper at times, needs a lot of attention, very good guard dog, great mothering instincts and is very muscular and her tail I'm guessing was cut off. (she tends to steal stuffed animals and actual puppies from other dogs to keep as her own lol)

No her ears stay like that. Don't stand straight up.
By denise w (Guest Post) 05/25/20080 people found this helpful
Well she looks like a full blooded boxer with out her ears done and she was probably the runt as to her size.
By Maddi (Guest Post) 10/26/20080 people found this helpful
That is DEFINITELY not a boxer lab mix. My dog is having boxer lab puppies right at this moment and all of them are fat and pitch black with small white markings on the toes. I am not expert but that doesn't look like one! Thanks, maddi J 12 GA
By Lee 11/12/20080 people found this helpful
If you just showed me a photo, I would swear this is my dog. It's uncanny how identical they look. Anyway, I know my pup is a boxer mix.
By LizCA (Guest Post) 11/14/20080 people found this helpful
Your dog looks very similar to mine. Mine has more dark hair around her snout and the tips of her ears though. We didn't clip her tail either. She is a boxer and lab mix.

Not all boxadors have flat faces. The litter she came from, she was one of two out of 9 that had the longer snouts. She takes more after her mom! lol

Hope that helps a little :)
By Kim 5 61 05/20/20090 people found this helpful
Wow, I almost fell off my chair when I saw this pic. Look at my dog, Sadie, below. I am trying to figure out what breed she is also. NO idea. She could at least be a sister to your dog. She's standing at attention because we are at the dog park and Daddy is going to throw the ball for her. hee hee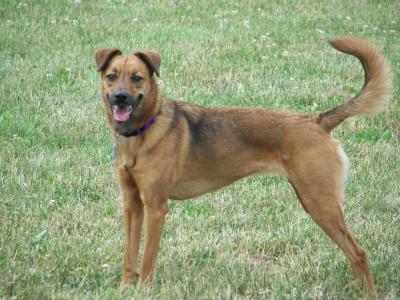 By Ellie Miler . 1 02/22/20150 people found this helpful
My puppy looks just like your dog. We thought that he could be a Golden Shepherd (Golden Retriever/German Shepherd mix). However, what I am seeing on the web is that he would then have a head of a Shepherd and the body would be more like a retriever and I can not find a pic of a Golden Shepherd that has the black in the tail, along the spine and in the face.

Sorry I don't have an answer for you, but I am hoping you have found an answer (or when you do) that you could be so kind as to share it with me. (julie AT isscare.com)