Gabby (Boxer)
Gabby is a 3 1/2 month old Boxer. I got her 2 months ago, at the age of 6 weeks. She likes to play with her ball and wrestle with Madison (my other dog). She's so silly and just loves to make me laugh.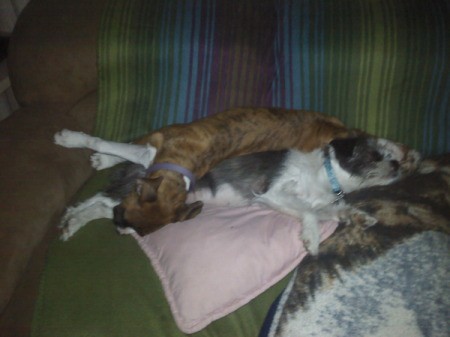 I have Narcolepsy with Cataplexy. Gabby is being trained as a service dog to alert when I have my drop attacks. At 13 weeks, she has already alerted twice on her own.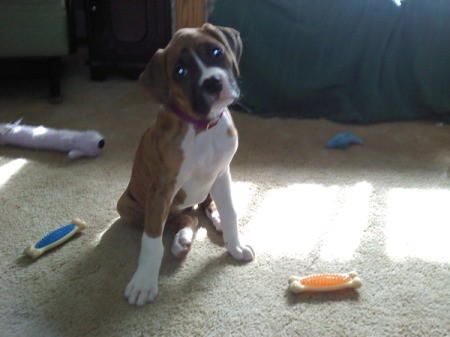 Gabby is a very smart and attentive little girl. I just love her more than I can even put into words. She's such a blessing.
By Kathie A.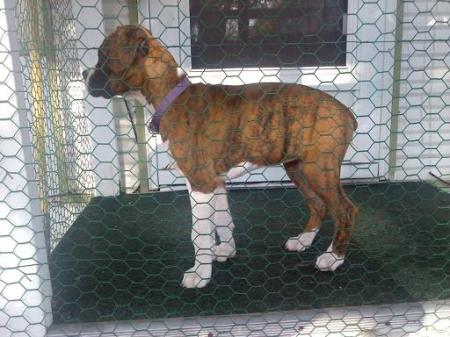 Feedback
Read feedback for this post below. Click here to post feedback.

By
06/16/2011
I am probably biased as well as we have a grand-doggie who will be 8 years old in November this year. She is so smart, it's hard to remember sometimes that she's a dog. She knows the difference between "shoes" and "slippers", the names of all her toys and "lovies", and "Grandma's coming" will send my poor grand-baby out to the gate where she'll wait all day for us to get there.

I can't imagine what our daughter and son-in-love would do without Sadie Belle to take care of them. They can even tell time by the things she does like stands in front of the shelf when it's time to take her vitamins, and gives no one any trouble about taking them either.

She'll stand by her food dish in the morning waiting for her breakfast at 7am promptly, and again at 5pm for her dinner. She knows she gets a Doggie Milkbone at the post office and the bank, so when the kids are going to one or both of those places, they tell her, and she goes and takes her leash off the wall and brings it to them. She loves to "Go" anywhere and rides
in the front passenger seat with her own special seat belt that our son-in-love
devised for her.

It's really amazing how much they learn while trying very hard to teach us their ways. Boxers are some of the best companion fur-babies to share your home with. I've never known a bad one in all my 76 years.

Thank you for sharing your Gabby with us. She's a beautiful girl. Wishing you a very long and happy life together.. Service dogs have a special place in all
our hearts too.

Pookarina

Sadie Belle giving her toy turtle a kiss. She loves that turtle but wants
it to move faster. :-)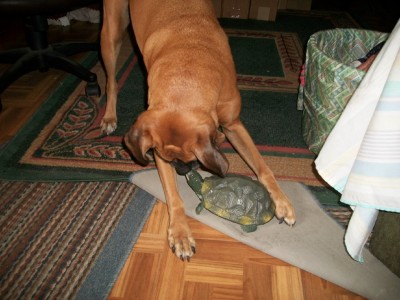 By
06/15/2011
Maybe I'm biased (I have a Boxer mix), but Gabby sounds like a fabulous companion. How great that she is being trained as an service dog to help you.
Post Feedback
Add your voice to the conversation.
Related Guides
Related Posts