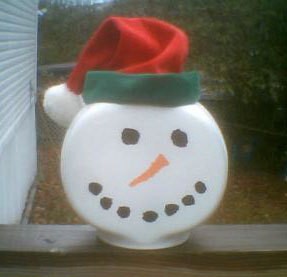 Here's a cute snowman head made from an old fish tank.
Approximate Time 30 minutes
Supplies:
old fish bowl
acrylic paint
sealer
old hat from stuffed toy or straw hat
white spray paint
hot glue and gun
Instructions:
Spray paint the fish bowl with the white paint and let it dry. Then paint on your face and let it dry. Seal if you like. Glue on the hat (you could also leave hat off and put in some candy or whatever and give as a gift.)
By Sandy from Bluff City, TN
Ad
---
By grammiecracker (Guest Post) 11/26/20070 people found this helpful
Very cute idea. You could also paint it yellow and make a happy face with a cap. A nice gift for a 'family' filled with goodies.
By Jenifer 1 13 11/26/20070 people found this helpful
I bet you could go to a thrift store and find an overhead light cover that is already white and use it.
By Robin Herrin 3 31 11/27/20070 people found this helpful
That is the cutest thing I've seen in a while and so very simple that anyone could do it!! You could probably find the fish bowl at a thrift store too for a dollar. I was thinking of painting one with a scarecrow motif, using a straw hat maybe? Great idea!!!!
By Maggie 13 53 11/27/20070 people found this helpful
He is waaay cute! Very creative indeed :0) One could add some white christmas lights inside for a nice glow :0)
Maggie in Bloomington, MN
By Joan Greer 12 11/27/20070 people found this helpful
Sandy, I really like your idea ...he is the cutest guy!
gardenlady, your idea of adding the lights inside is dandy! You know, my mind is going 90 mph with different themes for these bowls. How about a birthday theme bowl with a smiley face and added doodles. Add the lights inside and you have a perfect centerpiece for family birthdays. Or make one and give it to the birthday person as a gift!
You could make one for any kind of celebration, right?
Sandy, did you ever think that your cute snow guy would have created such a "snow storm" of ideas?
Thanks for sharing ... Joan -- Dilley TX
By suzanne 278 750 11/27/20070 people found this helpful
sandy has submitted many adoable crafts.I always look forward to seeing what she has made next
By sandy blevins 94 40 11/28/20070 people found this helpful
THANKS every one for the nice compliments. i really love to create things and it fills my heart with joy to know that my crafts can help people come up with ideas of thier own and that people enjoy what i make that is a crafters greatest enjoyment. sandy
By Judy (Guest Post) 11/29/20070 people found this helpful
I could see this one with tiny white lights in it! Very cool idea! Thanks. HUGS
By (Guest Post) 12/18/20070 people found this helpful
With the hat for a cover, why not use it as a candy or cookie jar?