Rabbits, Rabbits and More Rabbits!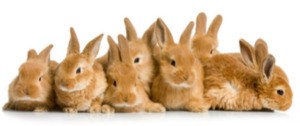 Here are some fun facts about rabbits and raising rabbits just in time for Easter.
Do you know that rabbits are capable of having 13 litters a year? Do you know that rabbits can take cold weather much better than hot weather as many rabbits die from heat?

Do you know that if you apply vanilla on the doe (momma) rabbits nose, she won't eat her litter? Gross as it may be, female rabbits will eat their litter if not stopped by changing what she smells.

Do you know that up until the middle 1950's, rabbit's ears were used for pregnancy test?

If you build a nesting box created with a round cylinder inside a oblong or square box, the babies will slide back down to the momma rabbit when they crawl away from her. This type nesting box is especially good in the winter months when baby rabbits crawl away from the Momma rabbit and can freeze to death.

My father invented the cylinder nesting box. You must make sure the space between the cylinder and the oblong box is filled in as the mother may try to tunnel in the wrong area.

Do you know that one of the most nutritious and delicious meat available is rabbit? Rabbits are vegetarians. They are a very clean animal as they are constantly cleaning themselves. Those of you that farm free-range chickens might want to trade for a vegetarian rabbit to have for dinner.

Do you know that rabbit manure can be spread immediately on a garden as it doesn't have to cure like many other manures do? Rabbit manure is excellent for the garden.

Do you know that rabbits do shed, but if you put a rabbit fur coat, hat or muff, in the freezer over summer it will keep it from shedding.

Do you know that you should never feed a domestic rabbit lettuce or carrots as it will give them diarrhea and may kill them? Only feed a fist full of rabbit pellets twice a day. Fill rabbit crocks with water at least twice a day, maybe more in the summer.

Lettuce is especially bad for a domestic rabbit. Wild rabbits are use to green foliage but most domestic rabbits are not.

Do you know that every part of a rabbit can be used, including their fur, as they aren't on the endangered species list? But don't forget, keep virgin does separate in a large cage, one huge cage for all of them if necessary. Rabbits can have 13 litters a year! Imagine that!

Last but not least, rabbit gravy is absolutely delicious! Don't be afraid to try it as it as it really is good! Want my recipe?

By Susan from Clinton, TN.
Feedback
Read feedback for this post below. Click here to post feedback.

By
04/16/2009
I have raised and shown rabbits my entire life! I don't think I've ever heard the burrowing bit in boxes though. All of our rabbits are in their own cages. We generally only have litters once a year, when we decide! The best bet is to put them in their own cage and not to mix the sexes. The 13 litters a year must be what some would call free range where they are all mixed together. I do not like or approve of that method. The females(does) can cut(castrate) the bucks(males) sometimes. You also run the risk of very young does becoming impregnated. So be careful. <p>We do NOT sell pet bunnies. Ours are strictly show bunnies. Therefore, in our area the risk of bunnies in shelters is pretty slim. I do eat rabbit, everyone in my home does. I have a deal with another breeder for every 3 I harvest(butcher), I keep one. This deal works great for us. I did 6 on Tuesday of this week. Needless to say we had in on the grill that night. And today well the second one is in the crockpot. <p>Making enchiladas tonight and noodles tomorrow. Rabbit meat is all white, low fat and recommended by some doctors. And fertilizer, thats all we use! No commercial stuff here. For folks that are wanting to become self sufficent on their property, rabbits are defiantly something to consider!

By
04/14/2009
That's a lot of bunny facts! :)
I had a sweet Rex rabbit when I was a kid (Baxter). He was much more like a dog than a rabbit- when I was winding down for the day I'd let him out of his cage and he'd jump up onto the couch with me. It sure caught my dad off guard the first time he saw me watching TV with my bunny! Thanks again for sharing all the neat facts.

By
04/12/2009
Remember that rabbits need hay and lots of it, timothy hay, etc. They also do well on green leafy vegetables and then the pellets of course.

There are so many bunnies that end up in shelters because they were so "cute and adorable" when they were babies, but they grew up. Please consider adopting one from petfinder.com.

Robyn

By
04/11/2009
One Happy Easter Bunny

Building a pen for your newly aquired Easter Bunny?
If possible build the pen off the ground assuring your bunny won't be hurt by other animals trying to get at them. The type floor you have in the pen is very important, as a wire type floor will give your bunny sore hocks which can be hard to heal. A solid wood floor works good. The pen should open from the front and the back. The front door for feeding and watering the bunny and the back so you can scrape clean "bunny droppings" right into a wheelborrow and whisk them away. Don't know what to do with manure, sell it, as it's wonderful manure for gardens. Place your bunny into another cage/pen while cleaning their pen. With a handle type scrub brush, scrub the pen with hot soapy water. Spray pen floor lightly with peroxide/water to kill germs, before allowing to dry completely. Do not spray peroxide on the bunny as it will burn your bunnies eyes. Keep your bunny far away from peroxide spray to be safe. Before placing the bunny back in the pen, place some fresh straw or preferred bedding material in the pen. Make sure the pen is clean and dry before placing the bunny back into it. The top of the pen should have a solid type roof to help protect your bunny from the sun. Rabbits can't take heat, so keep that in mind when picking a spot for your bunny pen. The sides and the doors can be made of wood framed wire as it will help keep your bunny cool in the summer. If you have a winter where you live, make sure you have plenty of nesting material for your bunny to burrow in, as they love to burrow. Fresh water and food in clean crocks as well as a clean pen makes for One Happy Easter Bunny!

Special Note: Bunnies can be handled too much, especially baby bunnies. It's ok to pet them, but try not to hold them close to your body or wrapped them in your arms, as they just can't take "over- cuddling!" Over handling kills more bunnies than any other reason.
Post Feedback
Add your voice to the conversation.