Lady (Border Collie/Blue Heeler) and Endo
Lady (Border Collie/Blue Heeler) and Endo
Lady and Endo are both about 11 years old now. Lady is border collie/blue heeler mix. Endo is of so many, I cannot list them here. Both were rescued from horrid conditions. Lady in January 1998. Endo in July 1997.
Lady likes a good belly rub or massage. Considering her age and that she is blind, her loves are eating and napping. Endo, being the same age but not blind, still loves to play and always improving his catching skills, like treats. I love all my pets, all rescued from shelters. We have 3 but may consider one more in the future.
By Faye from Garland, TX
Feedback
Read feedback for this post below. Click here to post feedback.

By Wendy (Guest Post)
06/21/2008
My dog's name is Lady too. AND she is a border collie/blue heeler too! Your dogs are beautiful. Thought I would send you a picture of my Lady as she is similar to yours.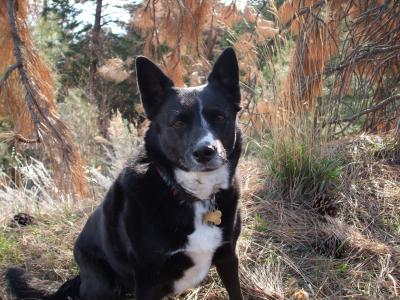 By LINDA LOZON FROM TORONTO ONT. (Guest Post)
12/28/2007
Congratulations on your loving these animals so much you gave them a second chance in their lives they look pretty happy.

By
12/25/2007
Good for you, Faye! If I could reach you, I would give you a big hug. We have 2 dogs, both lab mixes, 1 from a shelter. I applaud anyone who adopts dogs who need a home. I wish I had the resources to have more. I would never buy a dog; always go to the shelter. Merry Christmas to you.

By
12/22/2007
Congratulations and thanks are in order to you for adopting these lovely dogs! They are both beautiful, and I know they give you many hours of enjoyment and love. I am convinced that rescued animals are the absolute best kind to have! They have so much love to give, don't they?! I am on my second pair of adopted dogs - the first two died within a month of each other in Dec. 2006 and Jan. 2007. I now have a precious little beagle/dachshund female and a golden retriever/? male, both of whom came from the local humane society. God bless you and yours!

By
12/21/2007
Shiny, healthy dogs! they look happy - good for you to rescue them, they were deserving!
Post Feedback
Add your voice to the conversation.
Related Guides
Related Posts