October 11, 2007
0

found this helpful
Best Answer
This is not as uncommon as you would think. How old is the mother? If this is her first litter and she's young, the stress of dealing with the puppies may be too much. My German Shpeherd did the same thing when I bred her at 2 1/2 years. I hand-raised the puppies and within a few days she was her normal happy-go-lucky self. Also, be aware that mother dogs teach their puppies to be "easy" as they get older. The new puppy teeth are VERY painful I'm sure! Ask your vet if you are unsure about the behaviour, but don't put her down without exploring ALL the possibilities! She may just not be cut out to be a mother.
October 13, 2007
0

found this helpful
Best Answer
This happened to my Pom after she gave birth and at about the 6 week mark. I was told by my vet that it was the dogs way of weaning the pups and that I should be introducing them to puppy food...I would check with your vet for sure, your dog may be hormonally deficient, she may even have some sort of infection in her nipples....it would certainly be worth the vet visit. Good Luck.
October 11, 2007
0

found this helpful
I suggest that you find a Pit Bull group on the internet or, better yet, in your area and ask their advice. Also, you should talk to your vet about it. Sounds like you need to do it right away, too! I wouldn't put a loved family pet down until I had tried everything.
By guest (Guest Post)
October 12, 2007
0

found this helpful
Call your vet. Sometimes dogs become so nervous when they have puppies that they are sort of nutty; she may need some dog tranquilizers to calm her down, particularly if this is her first litter. I'd call the vet right away though, because she can harm the puppies.
By guest (Guest Post)
October 12, 2007
0

found this helpful
Your dog has just gone though, very likely, an uncomfortable stressful time. Maybe she's just not thrilled with being bred. Like the others, putting her down is no way to reward her for doing something because you allowed it to happen.
October 12, 2007
0

found this helpful
Are you really thinking of putting the dog down without even knowing what the problem is? I can't even imagine that someone would say or do such a horrible thing. The best thing for the dog would be to find someone who is compassionate and patient who would take the dog and give her and her pups a good home until they are ready to be placed in homes. You didn't say, but if you bred the dog too soon, it could be she is just not ready to be a parent. Perhaps someone would have to bottle feed the pups or find a surrogate mother. I also suggest that before you get another pet, that you learn about the animals you are interested in by reading about animal behaviour and talking to a vet and breeders of pit bulls before adopting another.
By guest (Guest Post)
October 13, 2007
1

found this helpful
Listen...I am one of the biggest animal lovers you could ever find, but let's be realistic here...if you think she needs put down, then that is your decision, of course I would get a vets opinion first...you know the dog and you live with the behavior..it is awful and painful decision...however, you need to do what you need to do, before you are on the 6 o'clock news with another dog horror story.
Perhaps the vet could give her drugs first and see if that would change her behavior first
October 13, 2007
0

found this helpful
P.S....I am not telling you what to do with your animals, but you might just think to have them spayed or neutered before they are old enough to breed.....puppies are cute....for a while....however, dogs in the pound are sad without hope for the most part.....as a society we should truly rethink the whole issue of breeding dogs and cats....be kind to your pets, SPAY & NEUTER its the best way to treat them.
Good Luck with your Pitty....I really hope she has a treatable problem that your vet can help you with.
Hedera
October 14, 2007
0

found this helpful
BTW-You do realize that temperament is a heritable trait, right? Puppies can be spayed/neutered as early as 6 weeks these days. You can have the pups done when you get mom done.
By guest (Guest Post)
January 18, 2008
0

found this helpful
Yeah that is normal after a while she feels as if you love the puppies more than you love her. Show her more love then she will get use to it and she will be ok.
By guest (Guest Post)
July 24, 2008
0

found this helpful
My pit had pups last night. This morning she bit my wife and snapped at me. Is this ok or not? Need help
February 11, 2013
0

found this helpful
Most animal instinct is to protect there young from others, humans are no different. If they feel there may be a threat, they do step in to take care of that perceived threat. For instance another animal getting to close to there babies. They do not want their baby harmed.
When the babies grow up and take care of things on there own mother steps back and lets her now adult take care of itself. It is a phase that all mothers go through, including me. I do not want anything to hurt my children!
As far as the nipping to stop her pups from weaning that is normal, as they do this to let their babies know it is time to eat solid food. Both breeds of dogs we breed in the past did this, each time they weaned. Just keep an eye on her that she does not seriously hurt her pup, as if that happens I would remove them from her care. If you are wondering, the two breeds were Chihuahua (Bitch) + Yorkie= Chorky and Rottweiler.
I would not consider euthanizing your dog for normal behavior. If you feel that the behavior is worst then it should be, I suggest consulting with a Veterinarian and an animal behaviorist first, to try to correct a problem. You would not like it if, you were misunderstood and someone wanted to kill you for it. I wish you all the best to find your resolution!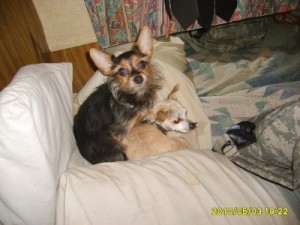 November 18, 2015
0

found this helpful
I hope so putting down an animal should be a Last resort not your first & only option.
January 25, 2016
0

found this helpful
Hi after my girl had pups on the 6th December last year the pups are now feeding on there own after we had to bottle feed them as she wouldn't nurse them in the last week she has turned very aggressive towards them and my children she keeps nipping and growling at them she started yesterday nipping at my boys faces we love her so much she is not a dog in our house she is a family member we are lost as to what to do I'm scared as a neighbors dog attacked my daughter pretty bad when she was 4 I don't want to go through that again can anyone help
February 9, 2017
0

found this helpful
My dog is doing the same thing. I heard it is just your bitch letting her pups know who is in charge. I would monitor closely, but I certainly wouldn't put her down.