I only have soft butter and need to know how much is 1 stick?
By Leah from Abilene, TX
Ad
---
Recent Answers
Here are the recent answer to this question.

By Candy Killion [9]11/11/2009
Leah, eight level tablespoons of soft butter will equal a stick, both come out to a 1/2 cup.
By David M. [1]11/10/2009
I know the attached image is hard to see, but on every stick of butter that I have ever bought it is printed right on it. You can see the measurements printed on the edge. The last mark is for 1/2 cup.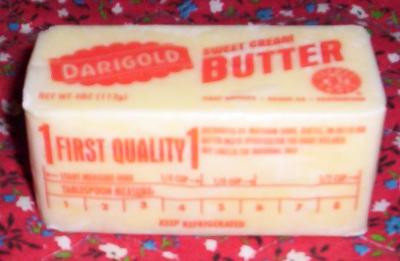 By bama03 [1]11/10/2009
According to the Betty Crocker conversion chart at beetycrocker.com, one stick of butter = 1/2 a cup. Here is the link if you want to pull the chart of conversion tables up for common ingredients.

http://www.bettycrocker.com/how-to/ ... n-Ingredients-Yields-Equivalents.htm

By mcw [80]11/09/2009
One stick = 1/2 cup. I just looked at a stick of butter in my freezer.

By Joan [13]11/09/2009
Any stick butter or margerine I have ever bought is the 1/2 cup sticks. I imagine the smaller sticks are good for some things or some people. I know where I live you can buy a carton of 6 eggs, instead of the full dozen.

11/09/2009
Well, things have changed during the past few months so it's going to depend on how old the recipe is. It used to be that a stick of butter was always 1/2 cup (or 8 tablespoons) but now a lot of companies are packaging the sticks in 1/4 cup (or 4 tablespoon) sizes.

I hope people start writing the actual measurement amounts from now on to reduce confusion.

By Nancy [4]11/09/2009
Well I always thought one stick was 1/4 cup.
Answer This Question
Add your voice to the conversation. Click here to answer this question.