Garden: Morning Glory Vine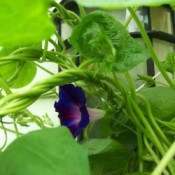 Never expected this morning glory vine to climb up and devour our porch light, but it has.
By Gloria
Feedback
Read feedback for this post below. Click here to post feedback.

By
08/17/2011
Robin, you're so right. One pack of seeds can last a lifetime. I always save lots of seeds from my vines to plant where I really want them, knowing that plenty will come up where I never expected. This particular vine had the largest leaves I'd ever seen on a morning glory, twice the size of the span of my hand.

By
08/17/2011
I brought one seed from a morning glory and one plant into our yard, because they are my mother's favorite plant in the world. There is not a place in the yard where they don't crop up. They are the hardiest plant, I have ever seen in my life!
Post Feedback
Add your voice to the conversation.
Related Guides
Related Posts