My cat is extremely anemic. Tests have shown no parasites, no infection, and no feline leukemia. I don't have much money. A blood transfusion has been suggested at $500 and a bone marrow test for $1000. These are out of my reach.
For several years my cat munched on a peace lily I had. She would quickly vomit. I now know that these plants are poisonous, but since she hasn't died, could her anemia problem be related to the eating of the plant? Any suggestions on what I can do for her? She's currently on steroids and a vitamin supplement, but I can see that she's beginning to get worse rather than better, as when she first started on the steroids. Help!
By Sharon
Ad
---
By Lisa 2 656 06/10/20100 people found this helpful
I don't really have any advice. I just wanted to tell you that I hope someone will give you some good advice, and I hope that your kitty's condition improves. Best of luck.
By Sharon 27 126 06/11/20100 people found this helpful
Thank you so much Mrs. Story. You're very kind!
By PENNY K 15 562 06/11/20100 people found this helpful
Well, I hope the plant is gone, so that can't be a worry again.

You can get frozen chicken livers at low cost at several stores in their frozen meat area. I'd give her one cooked [saute on low/med heat in little oil after thawing out] per day, sprinkled with a bit of brewer's yeast mashed in. Brewer's yeast or nutritional yeast can be found in stores that have food in bins usually. A pinch per day would be plenty.

Liver contains iron and B vitamins, and so does brewers yeast. You don't want to overdo it [liver also contains vitamin A which can build up to unhealthy limits]. Bit I think if you go through one package of chicken livers you may see an improvement if improvement is possible. Then maybe 2 livers a week.
You'll have to figure out how to keep them fresh
when you are only giving them once a week, because each container of chicken livers [looks like cottage cheese or deli container] has about 10 livers.

Or buy cat food which contains liver. But still give the brewer's yeast because at least in people anemia can be caused by low iron and or low B vitamins.

Poor kitty.
By Sharon 27 126 06/11/20100 people found this helpful
Here's my beautiful girl. The anemia is caused by something more than just iron deficiency. There is some type of condition/disease that's causing it and until that is addressed, the anemia isn't treatable. I'm currently running my own little business and don't have much extra money for the testing involved. I'm just trying to find out if anyone else had a similar problem that I could relate to my vet. I'm thinking it may be some kidney failure or kidney problem but I can't get her urine separately from the others for testing. My Tracey is 14+ years old and I might have to let her go as comfortably and peacefully as I can. Of course I love her dearly but I also have 3 other cats to deal with (two of them left behind by my daughter!) and my daughter is helping with food and litter. I'm just a little overwhelmed with my life right now and I appreciate all the good thoughts and advice. Thank you to all who care.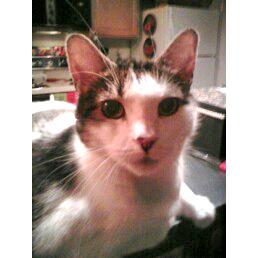 By Lizzyanny 9 1,216 06/12/20100 people found this helpful
Hi,
Your cat is such a cutie! It is so hard when they get older. At 14+ years she is an older cat. Many folks consider 15 an old cat. On the chicken livers, do be careful, especially if you are giving vitamins. Cats can overdose on vitamin A very easily on chicken livers. They should not have more than one a week. I have a cat on a medical diet that I prepare, so I had to research their requirements. It is not uncommon for cats to begin kidney failure shortly after age 15 or 16. It is diagnosed with a blood test. Vets treat it now although it is time consuming and a bit expensive. It requires infusions of fluids under the cats skin to help the kidneys. It buys a bit of time but the disease still progresses. Your kitty looks like such a happy contented kitty. I can tell she is well loved.
By BooBoo20 1 07/19/20110 people found this helpful
To Dusty 6788: If your cat has anemia due to kidney issues it can be tested with a blood test, not a urine test. They can test the kidney function and the anemia with just a blood test. My cat was recently diagnosed with anemia. She will be 20 years old in September. She has had kidney issues (due to just getting older) for the last 6 or 7 years, but that's to be expected with any cat past the age of 15. Recently we took her to the vet for a check-up, and they discovered she has a enlarged liver (which is either cancer or a harmless benign mass). She also has a heart murmur which can be attributed to the anemia. We were told there was no treatment for her anemia except blood transfusions (which will only help her for around 2 months at a time).

Vet thinks the anemia is either from her below normal kidney function, or "if" she has cancer in the liver that would also cause the anemia. We spent about $500 to find out the results (blood tests & a few x-rays), but we're not going to put her through any blood transfusions. Just last week she started eating her kitty litter (which is the "crystal kind"), and the vet said that was also due to her anemia, there is some sort of chemical in the kitty litter that she's craving. So we've replaced her kitty litter with rabbit pellets and that's working out really well. I was hoping we could just help her with the anemia with medication, but looks like there's no "pill" medication for this, and also I was told there's nothing we can feed her to help the anemia.

Her appetite is still really good, and she's tired due to the anemia, but we plan on enjoying the time we have left with her and not put her through anything that will upset the quality of her life.