Granola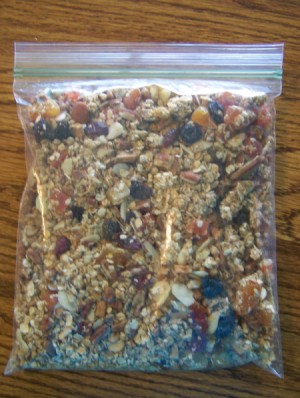 This is a fruit filled, quick granola. Makes around 12 cups.
Ingredients:
1 cup apple juice
1 cup brown sugar
1/2 tsp. cinnamon
1 tsp. nutmeg
1/2 tsp. sea salt
3 cups nuts
3 cups dried fruit
10 cups quick oatmeal
Directions:
Simmer the apple juice, brown sugar, spices, and salt for 3 to 5 minutes until the sugar melts. Pour it over the oats and stir well. Spread on cookie sheets covered with parchment paper. Cook 10 minutes at 350 degrees F, stir, then shut off the oven, leaving the pans in the oven until the oven is cool. When it is cool, just pick up the parchment paper and make a funnel out of it to pour your granola into your containers for storage. It makes a pretty gift, wrapped in clear bags tied with a ribbon. Include the recipe, because you will be asked for it.
By Ann from Loup City, NE
Feedback
Read feedback for this post below. Click here to post feedback.

By
06/26/2011
I used orange instead of apple juice and it came out great, thought it would have a strong orange taste but it didn't. I added the dried fruit and nuts into the oatmeal before mixing it all together.

By
06/21/2011
Hi Ann,
When do we add the fruits & nuts? Do we mix in together with the oatmeal before pouring in the liquid?
Thanks.
Post Feedback
Add your voice to the conversation.
Related Guides
Related Posts