Floral arrangements are best classified by shape. This project describes how to build a tall triangular floral arrangement. When complete, it will look best on a podium, shelf, or end table as the tallest of three objects. Customize this arrangement by choosing floral stems that compliment your décor or represent a specific season.
What you'll need:
1 or 3 tall stems (this can be orchids, curly willow, glittered birch twigs, feathers, etc.)
2 different textural elements (berries, wheat, Christmas balls, pinecones, fruit, etc.)
1 bush or 3 stems of flowers or greenery
stout container that is about as tall as it is wide
floral foam
glue gun
floral snips
sphagnum moss or Spanish moss
floral pins (U-shape)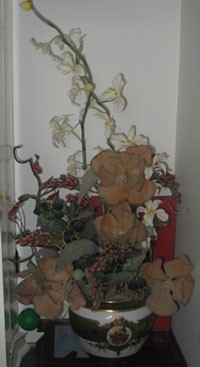 Secure floral foam to the inside of the container with your glue gun. The foam should be even with the lip of the container. Cover the foam with a thin layer of moss and secure it with floral pins. This arrangement will have a front and a back.
First, insert the tall stems about 2 inches from the back of the container. Next, insert the textural elements so that more weight is on one side of the arrangement. Do not disperse them evenly. Work with odd numbers. Place three textural elements on the right side and two on the left, for example. This puts more visual weight on the right side of the arrangement, and it keeps the total number of textural elements odd, 5.
Snip apart your bush to create separate stems, or if you have stems, snip the ends off so that the stem (not including the flower or greenery) is about 4 to 6 inches long. Again, working in odd numbers, use these stems add some height at the base of the tall stems. They should be about half as tall as the tall stems. Also insert the stems into either side of the arrangement, but not in even numbers.
Pull some of the textural elements up to vary the visual depth of the arrangement. Make sure some of the stems fall below the lip of the container. While you do want the impression of a pyramid shape overall, you do not want to be able to draw any imaginary lines that are straight. Have you ever seen a tree that naturally grows in perfect lines? Nature, and that is what we are imitating with silk floral arrangements, has no straight or perfect lines.
Turn the container around and view all four sides, making adjustments to the placement of elements as needed. The back of the arrangement, though it may never again be seen, should not be left bare or disheveled. Use leftover stems of greenery or flowers to fill in bare spots and give a look of fullness. This fullness will create a background for the arrangement when viewed from the front. Step back and look at the arrangement. Make sure there are no straight imaginary lines. Vary the height of the three tall stems and intertwine them if they can be manipulated. Now go find the perfect home for your new work of art.
About The Author: Shauna Smith Duty is a freelance writer with a penache for writing family and parenting articles. She composes articles for both print and web publications, reviews children's books and movies, writes short plays, and provides editing services. Visit her online at http://www.shaunasmithduty.com
Add your voice! Click below to comment. ThriftyFun is powered by your wisdom!