Garden: A Slaty Skimmer Female Dragonfly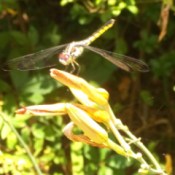 I love walking in my garden with my camera. Resting on my day lily, was this beautiful dragonfly. Anyone else besides me like dragonflies? She stayed for awhile, and let me take quite a few pictures before she flew away.
Feedback
Read feedback for this post below. Click here to post feedback.
By
06/21/2011
Oh I do love dragonflies! They are so lovely. Thank you so much for sharing yours. I wish that MaryC50 could share some of her wet spring with us, it has been too dry in GA. LOL

By
06/21/2011
Thank you for your comment! I'm glad you like seeing them too so far I've seen three different kinds in my yard. :) lol they sure can have lunch & dinner anytime!

By
06/20/2011
Hi JJJ, very nice photo! I love dragonflies! We've had such a wet spring that not only have we gotten the 'skeeters' earlier than usual but we're already seeing dragonflies, in my yard! Seldom see those here, usually have to walk in the woods near a creek.They're especially welcome for they lunch on the skeeters.
Post Feedback
Add your voice to the conversation.