Remedy for Dog with Allergy Related Ear Infections
I can't afford the vet anymore, so I'm going to ask you expert fellow pet lovers out there. My mini Goldendoodle has continuous ear infections. I will try to find an ear specialist if I have to. It's not yeast, it's allergies. I'm going to switch her off of Iams because I hear it's full of corn. Anyone else have any ideas? Cady Grace thanks you so much for your input.
By Carol S
Answers: Remedy for Dog with Allergy Related Ear Infections
Read answers for this question below.
With no disrespect but if you can't afford Veterinary treatment do you have any idea of an ear specialist cost?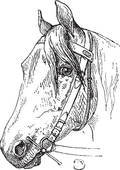 No pet food fro the grocery store aisles. Best food is part raw and your own cooked. No corn wheat or soy. Expensive but best is EVO or California naturals kibble

Good decent inexpensive kibble at co op, feed supply, groomers or specialty store store is Diamond lamb and rice. Ist ingredient is meat. Phone to locate in your area. No vaccines - vaclib.org to see ingredients like mercury, anti freeze, formaldehyde and the like. It kills the immune system.
Try the Lamb and Rice dog food. My Vet recommended for allergies and it helped my dog.. It does take a week or two to kick in. I also would put 3-4 spoons (you have a large dog) full of plain fat free yogurt over the food everyday it sure does build up the immune system.
If you Google homemade pet food recipes you can find some that you can make yourself. That way you are sure of what your pet is getting. And, your animals like it too.
A spoonful of plain fat free yogurt in their food at every meal. Give it a couple of weeks and you should start seeing a different. It works!
Here is the easiest method I have found to help alleviate/stop ear infections in dogs and cats. Simply freeze their dry chow for 24 hours and keep it frozen and feed them with this. My vet told me about this and my dog who had almost constant ear infections has only had only bout requiring treatment in over 2 years now! Saves the animal a lot of misery and you a lot of money too. Try it what do you have to lose?
I'm sorry, but, I would make one more trip to the Vet to get Blood tests to find out exactly what foods she is allergic to. Then you can control her allergic reactions by adjusting the food you feed her daily. My sisters dog has a shopping list of foods that she is allergic to so my sister makes her own meals and puts them in single serving containers and keeps them in the freezer. The most common food allergies are corn & wheat.
I would try taking the dog off of any grain at all. There are a couple of brands out there, natural balance and Limited ingredients diet (?) are a couple I can think of. You'll know in 3 weeks or so if that is really the problem. Also weekly ear cleanings, with a dry cotton ball. Do not scrub, wipe. If you want to use a commercially available ear cleaner for dogs, try to find one that is PH balanced. Sorry drawing a blank on names. Our chocolate lab suffered from ear infections most of his life. It was a constant battle.
Answer This Question
Add your voice to the conversation. Click here to answer this question.
Related Guides
Related Posts