Whats the safest way to remove oxidation from today's modern projector headlamps? With the newer headlamps ranging from $200 to $600 on average, sandpaper is not an option. What the safest way to remove oxidation without risking damage to the protective ultra violet layer?

Toni from CA
By Toni An
Ad
---
Recent Answers
Here are the recent answer to this question.

By Hado12/18/2013
A headlight deoxidizer is the safest way to clean oxidation.

By Marxhal (Guest Post)03/01/2009
Use the search engine, best way to find anything online.

By Steve F. (Guest Post)02/14/2009
Where do I get the deoxidizer for the clear lens on my car.

By R. Jamese (Guest Post)01/24/2009
I used Pittman's 360ID. It's safer than sandpaper or polish. It works very well and it's fast. I would recommend it over any of the other cleaning methods.

By Venusfly (Guest Post)04/17/2008
I used Pittman's One Step to clean mine last year and they still look good. I did not need tools or protective clothing so I'd say it was pretty safe and its liquid, so its safe on the headlight too. Absolutely no abrasive damage.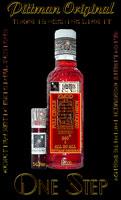 By socketman22 (Guest Post)04/04/2008
Meguiars auto polish company makes stuff called plastiX just for this job it takes 4 to 6 applications to buff them out it works. If they are yellow and look sand blasted don't waste your time just replace them.

03/12/2008
The safest way is with a deoxidizer. With all other methods you take a chance on damaging the UV layer. Over time the layer takes a beating from the road and the elements, this is normal wear and is barely visible to the naked eye but once you start rubbing on it with an brasive or sandpaper you have damaged it beyond anything normal wear and tear would produce. What you do see in the majority of the cases is a build up of oxidation on the surface. Thats what you want to remove, not your UV layer. That oxidation can be safely removed with a deoxidizer without risking damage to the protective UV layer.

By Dean. (Guest Post)03/12/2008
Add the 3M Headlight Lens Restoration System to your revenue stream of car care services. This system is a fast and easy way to restore the clarity back to headlight lenses that have become dull or cloudy over time. It was designed with the professional in mind to maximize productivity and performance. In many cases, this kit can be paid for in as little as 10 jobs. Use the 3M Headlight Lens Restoration System to increase your profitability and customer satisfaction.

Available February 8, 2008 at any authorized 3M Automotive Aftermarket distributor. Ask for part number 02516.



By Cajun [55]03/12/2008
m2¢
Whiting* sprinkled on a damp (non-abrasive) cloth should remove the foreign particles and polish at the same time. Not knowing what material your lens are made of, if High-impact Acrylic, it should have UV properties within; if still concerned after cleaning your lens, apply a UV Protectant available from an Auto Wax..
*Whiting is available from your Paint Dept in a good Hardware Store...
Meguiar's "Mirror Glaze 17" can remove hairline scratches from Acrylics & Polycarbonates (as well as from my Casio Watch face :)

By Sandy [17]03/11/2008
I understand there is a product at motorcycle places like Harley's that have a product for the motorbikes that is excellent to clean the headlights. I don't know the name, but I'm sure you can ask and find out.

By ladylynnk (Guest Post)03/11/2008
There is a kit you can buy at the auto parts store to take that off headlamps. Ask at the counter and they should be able to point you in the right direction.
Answer This Question
Add your voice to the conversation. Click here to answer this question.