This was my Halloween costume this year. One of my best friends and I create a children's TV show together and thought it would be great to make bobble heads of our TV personalities that we would later use on our show. You can see what we actually look like (as super heroes) at
http://www.supersquadtv.com
.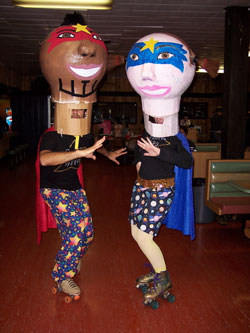 I used yoga balls as a mold for the paper mache heads. Once I put many layers of paper mache I then painted on the base skin color with spray paint and did the rest with poster paint. Then I sprayed it with a varnish to keep the paint from bleeding. For my hair, I used two small brooms that made my pig tails. For his hair, I made many yarn tassels and taped them in place.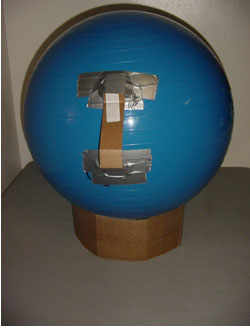 I did not have quite enough time to put enough layers of paper mache on so it would be sturdy on its own so I had to keep the ball inside (instead of deflating it and making eye holes through the mouth). I added a ring of card board around the the bottom which created a longer neck and cut a rectangle hole into the cardboard to use as an eye hole.
On our first night out wearing these we went to a Halloween skating party where we won a prize for our outrageous costumes. The next night we went out trick or treating and got many compliments, such as "Those are the best costumes I have seen tonight." They were well worth the work and will come in handy in our kids show.
I encourage anyone who has the time to make a bobble head for their costume next year, it was a lot of fun and it is always nice to see someone who worked hard on their costume.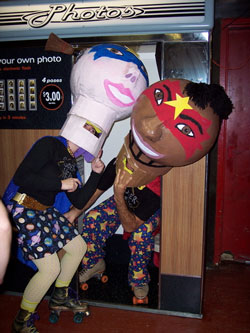 About The Author: Stella contributes craft ideas to ThriftyFun.com. If you have any craft ideas that you would like to share with Stella and ThriftyFun community, please submit them here.