If you have a stockpile of the little creamer cups, think crafty and reuse them in fun new projects. This is a guide about crafts using single serving cream containers.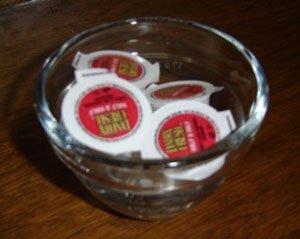 Craft ideas for individual creamer containers as submitted from the ThriftyFun community. Do you have any uses, post them here!
Tiny Artificial Vases
When I worked with Cub Scouts, we did a project using the small creamer containers. We filled the empty container with plaster of paris and inserted a small artifical flower then tied a small ribbon (glued) around the container.
You can also use small lids from things like hairspray for this.
By myc2000
Pin Cushions Or Little Containers
You can put polyfil in them and make pin cushions out of them to give away or use as a fundraiser.
You can also make lip gloss and put it in them. We used film canister that I boiled to clean.
By Michele
Rice SWAP
Fill them with a mixture of rice and glue. Add 2 halves of a wooden toothpick and you have a bowl of rice SWAP for Thinking Day. We used plastic soda bottle tops, but I'm sure it will also work with the creamer containers.
By Heather
Make Large Beads
We were talking about this the other day. One thing we thought of was to poke holes in the middle of the bottoms of the cream containers. Then glue two of them together, tops facing. Just put a little glue around the rim and stick them together. Once they are dry, they will make some large beads. These would be nice light beads and could be painted or colored with markers. You could use some wooden beads as spacers between them.
Susan from ThriftyFun
Do you have any uses for these little plastic cream containers? Post them here!
Answer
Was this helpful?
Helpful?
Yes
All good ideas. The pity is why we have these containers in the first place. I wouldn't even want to venture the total amounts of those containers used everyday across this world.
Ok here are my 10 ideas to reuse those small half and half containers.
1. to store flower seeds you take from your garden for next year.
2.could be used for parts of homemade miniature furniture.
examples bases of a table, lampshade, a top and skirt of a round table and others.
3.a cup for your homemade air freshener
4.a mold for ice cubes
5.a mold for homemade parakeet bells
6.homemade game pieces for a board game
7.a container to mix artists paints
8.stack them onto each other or make a small pyramid for a table top child's knock down game.
9 seed starter pots
10.holes for a small tabletop homemade miniature golf course using marbles for the golf balls.
Believe it or not people just doing any of the reuses mention here in this or any of Thrifty fun's categories will help you save money, feel better about yourself and deduct emissions from global warming. If you would like a further explanation please feel free to email me.
TO REUSE IS TO SAVE SO MUCH
Mr. Thrifty
Reply
Was this helpful?
Helpful?
Yes
Read More Answers...