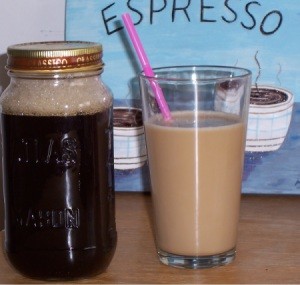 Make a half pot of coffee, allow it to cool a bit. Then pour it in a quart jar and add a tsp. of sweetener (or to your taste). I use Agave syrup, which is low-Glycemic and you use less than you would sugar, you can always add more later. Shake well to dissolve sweetener and put in fridge until cool.
When ready to drink, pour into glass making it 1/2 to 2/3 full (depending on how strong you like it, (I'm a 2/3 full person) and fill the rest with milk and then ice if needed. I leave mine in the fridge until the next day so I don't always need ice.
I make extra coffee every day or so and pour the extra (after my morning hot coffee) into the quart jar with a little sweetener. I am a coffee lover and when I'm out and about, I love to stop for an Iced Coffee but the prices always make me cringe. I can't really break down the price for you but I guarantee it's very little compared to store bought.
If you are a person who would normally pour that coffee down the drain after you've had your fill, think about just putting it in the fridge. It will be yummy latter when you're wishing you had an Iced Coffee. For that matter, you could pop it in the microwave too.
BTW, this is in a recycled Spaghetti sauce jar, no special materials needed.
By Melissa M. from MI