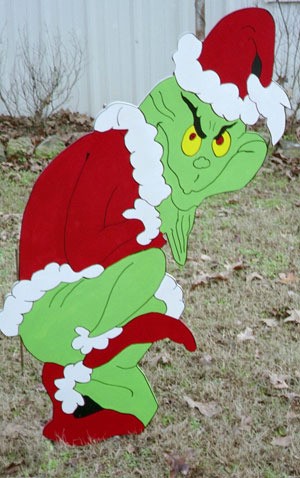 Here are a couple pictures of the yard art that my husband and I make. They are hand cut from birch plywood and handpainted. The figures in the Charlie Brown Christmas display are about 24 inches tall, and the Grinch who stole Christmas is 48 inches tall.
By Harlean from Arkansas from Hot Springs, Arkansas
http://yardartplus.ecrafter.com/YardArtPlus/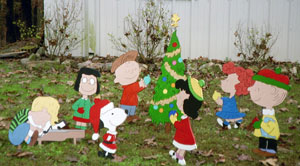 Ad
---
By Michele (Guest Post) 12/28/20060 people found this helpful
WOW! Those are most impressive! I bet you have all kinds of orders for these. Keep up the great work!
By Holly 367 1,264 12/28/20060 people found this helpful
You are both very talented! Good luck with your business.
One of my neighbors put some yard art in their yard year 'round with a phone # for orders (free advertising). Check with your local laws first.
They have since moved, so I can't ask any questions.
By (Guest Post) 09/07/20080 people found this helpful
Looks very nice, my wife and I make just for ourselves as no one wants to steal them. We haven't been able to access the web site for some reason. You don't happen to have a catalog that we could buy patterns?
By anatole (Guest Post) 12/30/20080 people found this helpful
Harlean,
Your work looks really great! I did my very first plwood cut out Charlie Brown Christmas made of 1/2" MDO plywood and gave it to one of my bosses from work. I did a Charlie Brown, a Linus, a Snoopy kind of like yours except without the boots, several trees like the one on the cartoon and Snoopy's dog house with all the trimmings and a large sign with white letters on a blue starry background with Luke 2:8-14. You don't probably remember me but we were emailing each other for a time. My wife thinks we should also try to make some extra money doing this and I hope we shall this summer. Have a very Happy New Year! :)
By Harlean from Arkansas 139 417 07/25/20090 people found this helpful
Since I posted this, the website I had at that time no longer exists. The hosts took the site down, but you can find me now by going to YardArtByHarleanFromArkansas.com Just copy and paste into your browser. I will be adding a few new items in the near future.
Harlean from Arkansas