Are straws safe teething toys for kittens?
By Lana from Des Plaines, IL
Ad
---
Recent Answers
Here are the recent answer to this question.

By SANDI [2]04/19/2011
I would say straws are not a good idea. Choking is a possibility just the same. Contact your vet for a safer way. Good luck.

By Beth [25]04/19/2011
Well they certainly are too big to choke on. My cats love to steal straws out of drinks whenever someone turns their back. They look pretty mangled when I find them under the stove or wherever, but never has a piece been actually chewed off.

By Lizzyanny [9]04/19/2011
My cats have always loved to play with straws, and do so on a regular basis. The straws I have are plastic. They eventually look chewed on, but the cats are not chewing on them a lot, just batting them around etc. I think if they were chewing to the point I thought they might chew something off and swallow it, I would be concerned they might swallow a piece large enough to cause a blockage. In all their chasing, biting, flinging and chewing they have never chewed a piece off.

By Cindy [3]04/19/2011
Hello, Lana! I can't imagine that straws (paper or plastic) are good for you kitten. Please talk to your vet or find a very well informed, dedicated pet person / pet store associate that can offer you better alternatives for your "Kittie's dilemma!"

She/he does need something to chew, but in my opinion it shouldn't be anything that could mess with the digestion track but rather something that could simply exercise his/her gums without fear of ingestion.

Ask some of the pros about this (your vet, first) but please, please, please don't give the pet something he or she could consume! Best of luck and many happy wishes for a long, happy, and healthy friendship with your fur baby! Take care!
Questions
Here are questions related to Teething Kitten.
We think our kitten is teething right now. She is about seven months old and is all of a sudden chewing on everything! This is a very new behavior. Is she teething and what can we do to help?
By Cecilia
---
Most Recent Answer

By Robyn [369]11/28/2011
I would try getting the kitten different toys with different textures and spraying them with catnip spray or just getting ones with catnip in them.

Small dog chew toys might feel good to your kittens teeth! Stay away from anything spiked. Spiked toys tend to hurt the gums.

Blessings, Robyn
Archives
Thrifty Fun has been around so long that many of our pages have been reset several times. Archives are older versions of the page and the feedback that was provided then.
Our 7 week old kitten has gotten into a bad habit of biting. Not little nibbles and licks either! He has also preferred his hard food the last couple of days, over wet. Could he be teething? He seems happy enough, playing, eating well, purring, sleeping lots. I also noticed quite a few new back teeth have come in. Any info on kittens teething would be great.
mamajuice43
---
RE: Teething Kitten
We had one kitten that would chew those pig ears that you buy for dogs. He would take it from the dogs and run away and hide. When I took him to the vet to be neutered, she had to pull some of his baby teeth that didn't fall out. He acted more like a dog than a cat. When he would play with us, he would bite us hard. It took awhile to break him from it. We would just sternly tell him no and refuse to play with him. I think he was more like a dog because when he was a kitten, we took care of a twelve week old puppy for about two weeks. They would play and wrestle whenever they were awake. (09/19/2005)
By mkymlp
RE: Teething Kitten
Kittens definitely teethe. Giving him something to chew on would be helpful. It usually doesn't last too long. They lose teeth, just like babies do. I know that from having one of them stuck in my hand. It's rare to see the teeth that come out.
Training cats is pretty easy. If you grab them at the nape of the neck and wiggle it a little, they think you are their mother and will mind you. They will do this even when they are adults. Just hold the skin at the nape of the neck and say "no". They get the picture very quickly that way. (09/19/2005)
By Susan
What can I do for my teething kitten? She bites to the point were she'll draw blood. Is there any thing I can do for her?
Carebear from Bennington, VT
---
RE: Teething Kitten
When my youngest was teething I had received a package of free dog "Greenies" which are shaped like little bones, he chewed on that quite happily. I also brought home a long skinny branch (without leaves) and both cats still chew on this. When it gets too splintery replace it. I also found hard cat treats help as well. (10/30/2006)
RE: Teething Kitten
I have heard that plastic drinking straws work rather well. My kitten is currently teething and is using my hands and feet, it's starting to hurt. I am going to try the straw suggestion. (05/31/2007)
By Jenel
RE: Teething Kitten
My kittens just started teething, one is three months and the other is four months. I went and bought them the dog teething toys, the ones you wet with water, freeze, and then give it to them. I have yet to see them play with them since I work, but as long as they don't bite my furniture anymore I am good. (08/14/2007)
By Rebecca
RE: Teething Kitten
My kitten is in the cute, crazy teething stage, too. She loves to chew on metal for some reason. Any time a wire hanger is left out, she chews on it. She also chews on the metal bakers rack. You just have to keep them entertained with toys and play games with them. They're just babies; the bites don't hurt that bad. (08/22/2007)
By CandyCane
RE: Teething Kitten
Pens. That's my kitten's thing. She loves them! (10/08/2007)
By Katie
RE: Teething Kitten
Kittens tend to start teething around 2 to 4 months old, but I think my 7 week old kitten is teething. I'm going to try the McDonalds straw idea. But when my other cat was a kitten, I had a little rubber ring that came off another cat toy, he would fall asleep chewing on it, and later would fetch it. I can't find it, or another one of the toys it came off. But if any of you can find something similar, it will work wonders for the teething. (10/22/2007)
By MissKitty
RE: Teething Kitten
I found giving my kitten a potato to play with helped. He can gnaw on that, but it's not so hard that it will hurt like wood. (05/26/2008)
By Jennifer
RE: Teething Kitten
We just adopted a 5-mo kitten who is teething and right now has double canines that make her look like a mean shark. Our vet recommended corrugated cardboard; a small box opened at one end is ideal. She chews on the corners of the flaps and leaves other stuff alone. Just remember to take off any sealing tape, because they can swallow bits of it and it's not good for them. (09/02/2008)
By Page
RE: Teething Kitten
I found the small puppy toys from Pet Stages have been the best thing for my teething kitten. You can even freeze them for more comfort. My little man likes them with a little bit of chicken broth and he leaves everything else alone. (09/21/2008)
By Kitten Mom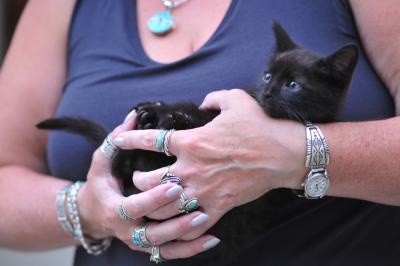 RE: Teething Kitten
My kitten likes those little hamster chew sticks. They are the same consistency as wood (like balsa wood, which may work too, but actual wood may be worse for them). It's softer and I think its made of vegetable stuff. I think they make similar things for birds, but I don't know what they are made of. (01/04/2009)
By lizzie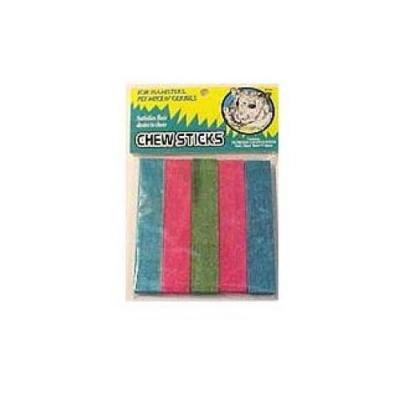 Answer This Question
Add your voice to the conversation. Click here to answer this question.