I was born with a gene that not everyone is born with - the Frugal Gene. I was coming up with ideas to save money and electricity as a kid. My clothes line across my room made of yarn didn't work real well, nor did my idea to turn off all lights and only use candles. I was a little extreme in my thinking and my parents thought I was nuts, but I've always had the bug.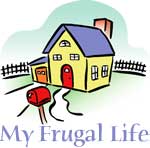 Some of my best tips have to do with recycling or reusing things. I believe everything can be used at least 2 other ways than it's original use. And I reuse everything! Four of my best tips for reusing are:
Old clothing - becomes cleaning rags, quilting and crafting material, dress up costumes and stuffing for dog beds that can easily be washed.
Toilet paper and Paper Towel Holders - great for holding plastic bags, cords, ribbons, christmas lights or making elaborate works of art, rockets and alien ships by an imaginative 3 year old.
Broken Costume Jewelry - great for restringing to make new bracelets or pins, accents for scrapbook pages, gift packages, home made cards or costumes.
Extra Ruffles - I have made matching curtains to our comforters or shower curtain be removing the extra ruffles that are attached to the shower curtain or dust ruffle. These extra ruffles have been transformed into the perfect curtains.
The biggest challenge I have always faced is being the minority in my thrifty thinking. None of my friends or family are thrifty or frugal like me. They probably think I'm bizarre, but that's ok. There was never anyone to swap and share ideas with until now.
I love the challenge of saving money and reusing new items. I am now a SAHM and it would not have been possible for me to be home with my son, if I wasn't such a thrifty mom. Another great perk are the lessons my son is learning. We don't always need new stuff - just use your imagination to re-think it and re-use it.
Kim K. from Gloucester, VA
Do you have a frugal story to share with the ThriftyFun community? Submit your essay here: http://www.thriftyfun.com/post_myfrugallife.ldml