Freezing Individual Portions of Soup
Solutions
Share on ThriftyFunThis guide contains the following solutions. Have something to add? Please share your solution!
November 6, 2006
4

found this helpful
When I make soup or stew, I make enough for an army, so I can freeze it for lunch or dinner and not worry about cooking during the week.
I found a great way to freeze individual portions without having to use so many plastic containers. I take the soup bowls that I would be eating the soup or stew in and spray it with a non-stick cooking spray like Pam. I then ladle in the amount for each bowl and place the bowls in the freezer to freeze. I usually have to do this in 2 rounds since there are usually 8 portions and I can't fit the 8 bowls in my freezer all at one time.
When they are frozen, take them out and place on the counter for about 5 minutes. You can then take a butter knife and "pop" them out of the bowl. I then stack them up in a large freezer bag and store back in the freezer. This way, when I am ready to eat them, I can just take out a serving of soup of chili, place it in the my bowl, and either microwave it or let it defrost at room temperature! Works great!
By Gina from Oklahoma City, OK
By guest (Guest Post)
November 8, 2006
0

found this helpful
I put a serving in gallon ziplock bags and lay them in a baking sheet and put in the freezer. Once they have hardened you can get your baking sheet back out. They stack up nice and neat and flat.
Read More Comments
I have a tip that I have been doing for many years now. Every late fall through winter I enjoy making huge pots of soup and freezing it into individual containers.
Then when I want one, instead of having the same soup over and over again, I do some mixing and matching. One time, I might add some cooked chopped potatoes, one time some cooked noodles or rice. Or sometimes I'll thicken it and turn it into stew. Also I don't put the meat in it when I first make it either. This way I can mix and match that, too. I might put in some ground beef, or stew beef, or chicken or turkey. Also sometimes I might add some extra different vegetables too, like maybe some broccoli, or whatever.
Sometimes I'll even thicken it up and serve it OVER rice or noodles. This way I can make one pot, but have many different meals.
By Cricketnc from Parkton, NC
November 5, 2009
0

found this helpful
I never thought about mixing and matching the soups I freeze but certainly will experiment now :-) Great idea, Cricket!
Read More Comments
Put a baggie in your soup bowl, add soup to the baggie. Close loosely. When frozen, remove from bowl and store in freezer. To thaw, you can dunk it in a bowl of warm water until loosened from the bag. Then heat as you would any frozen soup.
I also use larger bags for multiple portions for my husband and myself - I freeze that in the pot I'll heat the soup in.
Source: I've been doing this sort of thing for a while. I have no idea where the original tip came from.
By Polly G from Turtle Creek, PA
Freeze your homemade soup in plastic brick shaped containers. When they have frozen, turn them out and wrap in cling film or freezer bags. This shape is easy to stack, and the containers are free to reuse.
By lanky liz from Scotland
April 3, 2009
0

found this helpful
This is a great space saving idea. I use margarine tubs. A 500g tub holds 1 serving of soup!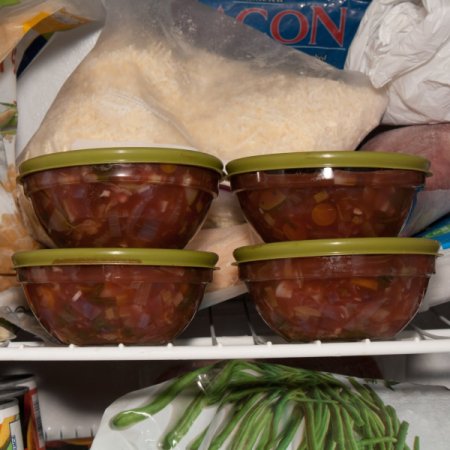 I always make an extra large batch when preparing soup for dinner. I have a set of glass bowls that came with plastic lids. It has about 6 individual serving sized bowls. They are perfect for freezing lunch sized portions.
Read More...
Related Content