How To Help A Choking Pet
I hope no one ever has to use this information on their own pets, but it can save a life in an emergency situation. A dog or cat choking on an object can quickly pass out or even suffocate, even if the windpipe is only partially blocked. You may find that dogs have problems with choking more often than cats because dogs love to play and chew, and toys (or pieces of toys) can get caught in their throats.
How do you know your dog or cat is choking?
You may hear gagging, retching, or coughing, and your pet may become panicked.
What do you do first?
If you can hear breathing/wheezing, your pet is still breathing and you have time to get medical help. Call the vet and hit the road. You may want to wrap your pet in a blanket if they are frantic and struggling.
If your pet is not breathing at all, you should first attempt to reach the object with your hand or tongs/pliers/tweezers. Grab your pet's tongue with one hand, then try to reach in and grab the object. Use the tongs ONLY if you can see the object; don't go groping around blindly, you could damage the throat or lodge the object more firmly. If you can't get it after one or two quick tries, it's time for the Heimlich maneuver.
Heimlich for cats and small dogs
Hold the pet with her back against your stomach, head up and feet down. Place your fist in the hollow below her rib cage and pull in and upwards towards your belly and chin. Repeat two or three times, then check to see if the object has come loose into the mouth.
Heimlich for large dogs
Lay the dog on her side. Kneel behind her with your knees against her backbone. Lean over and fit your fist into the hollow below her rib cage and pull upward and inward, towards the dog's head. Repeat two or three times, then check to see if the object has come loose into the mouth.
If you dislodge the object, most pets will start breathing again on their own. You should probably call the vet and bring your pet in for a check after everyone calms down a little. Some pets will need mouth-to-mouth to help jump-start the process. You can give up to twenty breaths per minute until your pet starts breathing again, or until you reach the veterinarian's.
If you can't dislodge the object, you can repeat the Heimlich maneuver while someone drives you and your pet to the veterinarian.
Feedback
Read feedback for this post below. Click here to post feedback.

By
07/09/2012
Terrific post for People with Pets. And yes, Pets do panic just like We do so having a blanket to snuggle your Pet is a Great idea an also helps keep your Pet from moving around if you need to open the mouth and get the item out.


By
05/02/2011
Adding to the previous comment: the vet has not idea what killed my cat, my mother didn't see the use in a necropsy so she was against it and I was feeling too bad for anything. Now I'm sorry I didn't insist with necropsy, it's already been three months almost and I am still in pain. I think knowing might relief me just a bit.

By
05/02/2011
My cat died apparently from choking on a pill. I wasn't home, but at work and my mother was with him- the story is: she tried to give him a pill that he spitted, then she tried again (the cat had had a kidney blockage two days before- and was undergoing a treatment, it was quite important) and after this second attempt, the cat became 'apathetic'. He went into my room where he laid on the side. My mother thinks he wasn't breathing well. We have a vet close to where we live so she took him there. When she was on the way to the vet I could hear the cat crying repeatedly like in panic indeed, but vigorously, this was already after some 15 minutes since the pill was given.

I have doubts that the cat died from choking on the pill because: 1. He actually spit the pill the second time around too (my mother found it some hours after close to the place where it was administered), 2. He could meow vigorously after 15 minutes (my mother says he had difficulty in breathing still, so I just assume this myself from hearing over the phone); and 3. it was at least 15 minutes of presumed choking. Does it take that long for a cat to die from choking?

I am really tormented by this. I am even thinking the vet gave him a bad treatment, that maybe he didn't even need to be taken to the vet. The fact that I wasn't there is making matters quite difficult to bear for me.
I'd really appreciate some second opinion on what might have killed him.

Thanks a lot,
Ilinca

By
04/26/2010
Hello Everyone,

About an hour or two ago my doberman pinscher started choking on a piece of meat. After about 3 mins she passed out (her eyes were wide open, her tonge turned blue, and she defacated). I had started performing doggy heimlich on her, and after about a minute the piece of meat came up in her throat. I did a finger sweep down her throat and remove the piece of meat (which had broken into two pieces). After performing mouth to mouth (yes, very gross) for about 30 seconds she started breathing again.

Do not forget to check their throats after doing doggy heimlich, and sweep for the object. Sometimes its too tightly lodged (like in this case), or has broken apart.

I'm still in shock, but she is doing well now. we are taking her to the vet in the morning. I am so grateful to God that she is still here and looking healthy.

By kaila (Guest Post)
09/25/2008
My cairn terrier is choking right now and I don't know what to do. Every time he swallows he gags and I am home along. My mom is at work and my dad is on vacation. Should I call the police?

Editor's Note: Call your vet or any vet right away and tell them your situation. They should be able to help you. You should also call your mom at work before you do anything else.

By Johnny-o (Guest Post)
11/03/2007
Don't know if my cat had choked to death or had a heart attack?
He gave out a loud meow! When I cake running he gave 3 very very hard gasps or chokes his toung was all the way out, his eyes were dialated and in seconds his legs shivered and he was gone.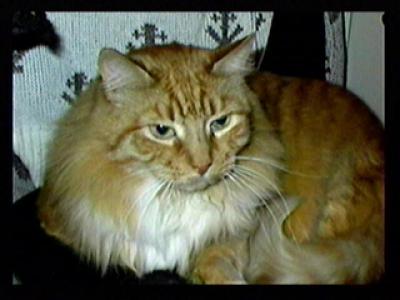 By g (Guest Post)
08/06/2007
I wish I knew this earlier, our cat just choked to death about a week ago. AT first he got up from sleeping and looked kind of like he was gonna throw up, then he started into the hall and it just looked how they always look with hairballs, but he was batting at his mouth, then he jets under the bed, thrashes around and come out still not breathing so we picked him up and tryed to dislodge whatever it was and then he just went limp.

I tried CPR I had learned for humans but he was dead.

By (Guest Post)
06/12/2006
Thanks sooooo much. My cat just got a seed lodged in its throat and I quickly googled it and came to this site. I then performed it. It got unlodged and i reached in and grabbed it.

By (Guest Post)
06/12/2006
Thanks sooooo much. My cat just got a seed lodged in its throat and I quickly googled it and came to this site. I then performed it. It got unlodged and i reached in and grabbed it.

By
04/16/2006
Thank you for posting this article....by the grace of God I have not had to go through this yet, though my large dog loves rawhide and tennis balls (which he normally breaks in half!) It's funny how we will go through classes for human first aid, but may not think about our pets!
Post Feedback
Add your voice to the conversation.