Molly is 2 years old. I saw Molly at a pet store. Which the place I didn't really care for. She was in this very small cage where she could hardly move. She did not look healthy. Molly looked scared, thin and not playful at all. My heart was totally broken. I decided she was not going to spend another day/night in that place they so called a "pet shop"! Molly came home with me that day.
Molly likes to take walks with me and my other cat, Mouse, in the woods. But Molly likes when I put Mouse in the house so we can go on our own walks. Because you see Mouse is on a leash. Molly does not need a leash because she listens. Molly and I can walk and walk and she is always right by my side. Molly loves to hunt.
Molly is a very "in charge" kind of cat. When I go down the road to check my mail, Molly is not allowed to come with me. I'll tell her to stay in the yard and I'll be right back. Molly will wait for me at the top of the driveway until I call her to let her know that it is ok to come to me. Then Molly will run like a dog to greet me. She sometimes hops a little in the air. That is so funny. She loves to run under the leaves when I rake the yard. Sometimes you can't even see her. I always tell her she is a good girl and she will always be my Babymolly.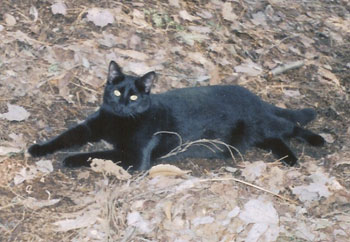 By Margarita from Greentown