Making a Christmas Wreath
I have never been one to do crafts but I find myself this year wanting to make a Christmas wreath. I have no idea where to start. All I really know is I would like to make it cheaply and easily. I figured I could buy one of those $5 Walmart plain green wreaths and start from there. Any help or ideas would be wonderful. Thank you.
By Goldm00n
Answers: Making a Christmas Wreath
Read answers for this question below.
You could make your own form for next to nothing. on a piece of plywood lay out a circle with a compass such as a piece of string, nail in the center and pencil. put a hole every 5 or 6 inches and put pegs in them. then just weave the old grape vines, honey suckle vines, just about anything that's pliable around the form making sure that the ends are tucked in snugly. When it's done just lift it off of the form. you could probably use a bucket too.
I'm with Elaine on one of the above posts. I wait until after the holidays and all the decorations are marked down 90%, you can pick up the "makins" for a dozen wreaths for less than five bucks. I make them in my spare time during the year and give them to friends or neighbors when folks start doing their holiday decorating.
I made my 1st Christmas wreath last year. I bought one of the $5 craft wreathes from Wal-Mart & the little Christmas stick bush-type decorations from the dollar store (fruits, tiny packages, tiny tree ornaments, etc)--the ones that are 2 for $1. Then I gathered large acorns from our downtown square & pinecones from the schools yard. I lightly sprayed the pinecones with clear adhesive & rolled the tips in different colored glitters. I reinforced the caps of the acorns with glue (the nuts WILL fall out of the caps) & I took colorful oak leaves & ironed them between waxed paper to preserve the color & trimmed the waxed paper really close to the leaves. I arranged everything on the wreath before hot glueing it into place. I took apart a clothes hanger to make a hanger for the door. My wreath turned out really colorful & I've gotten a lot of comments on it. I spent less than $15 on it & I've seen some really EXPENSIVE ones that aren't nearly as nice! For years I've made pine cone ornaments for my Christmas tree by leaving either plain (which I like better) or spraying with glue & glitter or gold paint--tie a pretty, narrow ribbon into a bow & secure it to the pine cone with a decorative thumbtack at the stem end--very pretty!
I make wreaths with vines-wild grapevines, honeysuckle vines (wild Japanese honeysuckle is everywhere here, a real pest!) or Kudzu vines. Strip the leaves off and hold it together in a circle and commence to twine the vines around each other. Be sure to use while green so the vines are pliable. Use pieces easy to work with and tuck ends in at beginning and end. When you have the wreath the size you want you can attach greenery, Christmas decorations, ribbon, etc. as you want. I like to twine the ribbon around and attach a fluffy bow and attach a swag of Christmas decorations. You can find ribbon and decorations at walmart, the dollar stores. I like to pick them up after Christmas when they are marked way down and save them for the next year. You can also put dried flowers or anything else on these wreaths for any holiday or year round decor. You can make them rustic/country or chic, just use your imagination. The materials are out there free!
You can buy all sort os little wreath decorations at the dollar store to decorate the wreath with. If you want to cover it with something, nurseries sell cedar very cheap and it smells so good.
I love the look of different sizes of silk pointsettia, traditional red or pink, silver gold. Wired bunches of balls in coordinating colors would look nice too and put a huge but simple wired ribbon bow at the top of the wreath(I always do this first) then wire or hotglue flowers with ball bunches in between around the rest of it. Spray snow looks nice after its done as a final touch. I made a pink and white one like this with silver balls that so pretty that my mom snapped it up for her door before I could use it on mine!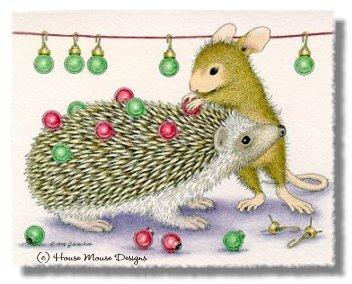 I use wire to attach live greenery I have collected from fir trees. I wire each branch piece on and go around my form, attaching the greenery as I go, making sure each piece is well attached. You can also use artificial greenery. After attaching the greenery, I then wire or hot glue on my decorations, add a large bow and presto all done!
I started making home made wreaths 2 years ago. I had never made them before until then because I thought it would be too hard. These are easy to make! I re-used a wreath frame from a previously purchased wreath and just took the trimmings out. I'm sure you can purchase a wire frame at the craft store.

While purchasing my tree at the farmer's market, I picked up more of the tree pieces that were cut off, for free! Gather up the pieces and using pliers, snugly tighten the frame piece around the pieces. I zip tied the pieces together first, and then strapped them to the frame. Do this all around the frame. Last year, I used pine cones sprayed blue and white with glitter and hot-glued them on the wreath, along with a blue and white snowflake decorated ribbon.

The year before was red and gold themed, with apples, pears and the like, with a red ribbon. Use your imagination! It may sound hard, but I am craft-challenged and was able to make it easily. Good luck, and Happy Holidays!
Answer This Question
Add your voice to the conversation. Click here to answer this question.
Related Guides
Related Posts