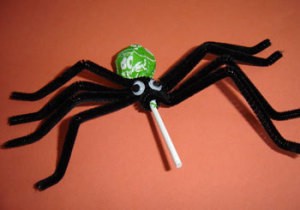 This simple craft takes a Tootsie Pop and makes it into a cute spider. It's great for a Halloween party or to hand out to trick-or-treaters.
Time commitment: Less than 5 minutes per spider.
Supplies:
lollipop of your choice
4 pipe cleaners
googly eyes
glue
Directions:
Hold all four pipe cleaners and center them on the lollipop then twist them around the stick.
Bend each end of the pipe cleaners to make them look like spider legs.
Glue on two googly eyes.
By StellaBell
Ad
---
Feedback Forum
Feedback about this article is posted here. Want to contribute? Click above to post feedback.

By shelley (Guest Post)10/20/2008
I wrapped each tootsie pop with red tissue paper to look more like a black widow body. Otherwise you have to buy tons of bags for a group craft. Looked really cute!

By Michelle Miller [1]03/22/2007
This is such a cute idea! I can use this at my son's school for Halloween. Thanks for posting!

By Tammy (Guest Post)03/22/2007
Very Cute... love it! This should be a big hit at my sons 4th Birthday party.

By carmel [4]10/24/2006
WOW thats cool, i will use that with my girls group if thats ok???
Thank you for a great idea.

Editor's Note: Every craft, tip or recipe on ThriftyFun is for you to use. Have fun!

By Karri10/18/2006
I do child day care and this will
surely be a hit with the kids. I
can hardly wait to show them :-)
THANKS for the GREAT idea!

By Paula [14]10/09/2006
What a cute idea! Thank you for sharing this.

By Kim (Guest Post)10/09/2006
I agree, very awesome. I can just see the kids thinking this is a great idea! And having fun making them!

By SARA (Guest Post)10/09/2006
AWESOME. I LOVE IT
Post Feedback
Add your voice to the conversation. Click here to share feedback.