Harlequin Maple Leaves Browning On Edges
Harlequin Maple Leaf
Planted a Harlequin Maple in May this year...loved the color of these leaves. Just noticed lately that every leaf on it is brown along the edges. Here is a picture of a leaf. What can I do to stop this from happening next year or prevent it from dying if that is what is happening. Thanks for your always appreciated help.
Hardiness Zone: 5a
Terry from Fall River, Nova Scotia
By Terry Hawkes
Answers: Harlequin Maple Leaves Browning On Edges
Read answers for this question below.
I hate to say this, but I am cutting my tree down after a little over 15 years. Much of the tree has gone back to a whole green leaf over the past couple years, a lot has died out and still dying and the tree just looks terrible. The white part of the leaf has turned brown for the past several years and then those leaves fall off in early fall.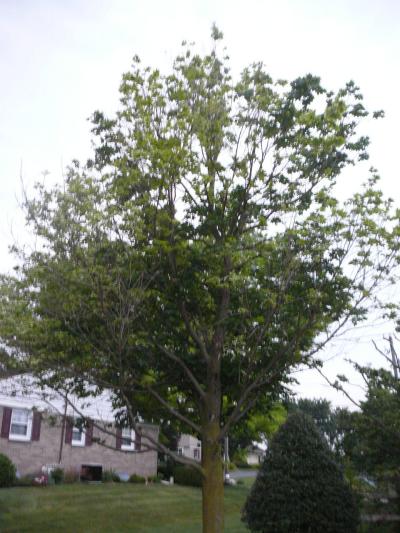 The pattern of brown on the leaves suggests to me damage of some type rather than insect problems. Has this tree been transplanted recently? Has this tree had the roots damaged by nearby digging? Is it too close to the house? I'd try watering it deeply and regularly.

Best of luck
I have the same thing, I have a October Red Maple. Although this year it got alot more dryon the edges. It gets really hot here in the valley. (CA) I'm hoping next year to remember the extra water! Previous post seems right about dry thirsty needing a good drink!
I think it got good and thirsty once. That or being dehydrated by a frosty night would do it. Either way, the leaves will soon fall. Transplant shock can do that too. No treatment is needed, just assuming you planted in a really big hole after mixing in compost and such. The roots will go deep and you will probably not have this problem in a year or two. Hope this helps. I like the variegated effect.
Answer This Question
Add your voice to the conversation. Click here to answer this question.