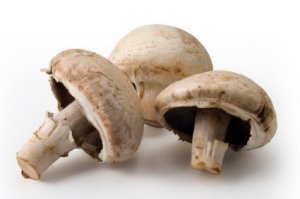 If you have more mushrooms than you can use up right away, don't let them go to waste, freeze them so they are ready for your next mushroom dish. This is a guide about freezing mushrooms.
Solutions
Share a solution for this guide today!
Questions
Here are questions related to Freezing Mushrooms.
I bought a gallon can of mushrooms like you use on pizza. As I started to open them, I thought, can I freeze the rest of these? Can anybody tell me if I can and how?

I have yet to find anybody that knows and why was I so silly to buy so many. They were not expensive. Please help me if you can, I am going to have to open them soon to put some on a pizza I am making for a party.

By Julia
---
Most Recent Answer

By jeanne12/21/2010
I have not frozen canned mushrooms, but I have fresh ones all the time. I like to buy the large box of fresh, after I have used what I want, I slice the what is left thin and fry until the liquid is gone, put in a zip lock bag & freeze. When I need some I just measure out the amount and include them in my recipe. Always comes out perfect. I can't see why this wouldn't work with the canned ones.
Can you freeze mushrooms?
By Donna
---
Most Recent Answer

By ROZJUNE04/02/2012
I freeze mushrooms. slice them lay flat on a plate put a plastic sheet over then another layer of plastic and so on till you have used them all put in freezer. When frozen put in bags to seal by doing this they will not be stuck together. use in stir fry, soups, pizza stews. No good for salads etc because when they thaw they go mushy, the flavour is just the same. Freeze whole mushrooms as well.
Can fresh, store bought mushrooms be blanched and frozen?
By Vanessa
Can you freeze fresh mushrooms?
By Robin
Can you freeze fresh mushrooms and cooked ones?

By Anna w.
---
Most Recent Answer

By Dorothy01/27/2012
I wash, slice, and add a little oil and vinegar to retain the color and saute for few minutes cool and store in an airtight container and freeze.
It's getting to be seafood boiling season and that means getting ready with your ingredients. With the stores stating to have mushrooms on sale (that is a necessity for your boil), can I freeze mushrooms? How long can they be frozen for?
By Ann from Poplarville, MS
---
Most Recent Answer

By anne02/22/2011
It's much better to dehydrate mushrooms for storage. I think it improves the flavor of them for many dishes. You can rehydrate them by saoking in warm water for about 15 minutes, or just adding to your dish with a bit extra liquid. Anne
Archives
Thrifty Fun has been around so long that many of our pages have been reset several times. Archives are older versions of the page and the feedback that was provided then.
***
***
Selecting High-Quality Mushrooms:
Choose mushrooms that are free from spots and decay. It's best to purchase commercially grown mushrooms. You can also collect your own, but unless you're a mushroom expert, do so under the supervision of an experienced expert to be 100% certain they are nontoxic.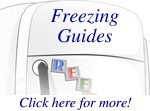 Preparing for Freezing:
Sort according to size. Wash thoroughly in cold water and pat dry. Cut off ends of stems. Leave them whole or if mushrooms are larger than 1 inch across, you may want to slice them or cut them into quarters.
Best Freezing Method(s):
Dry Pack:
Pre-treat by blanching sliced mushrooms (1 pound at a time) for 3 minutes, or 5 minutes if whole. Cool promptly and drain. Transfer into suitable containers. Date, label and freeze.
Tray Pack:
Place clean mushrooms in a single layer on a cookie sheet in the freezer. Tray-freeze until firm. Once firm, transfer mushrooms to freezer bags or other suitable containers. Seal, label and freeze. The mushrooms will develop a rubbery texture freezing this way, but will still be suitable to use when cooking.
Steaming:
Before steaming, pre-treat mushrooms for 5 minutes by dipping them into an anti-darkening agent consisting of 1 teaspoon of lemon juice or 1 1/2 teaspoons of citric acid to a pint of water. After pre-treatment, steam whole mushrooms 5 minutes (buttons or quarter for 3 1/2 minutes; sliced for 3 minutes). Cool promptly and drain. Package leaving 1/2 inch of headspace. Seal, label and freeze.
Frying/Sautéing:
Heat small amounts of mushrooms in butter in an uncovered frying pan. When almost done, set pan in a bath of cold water to cool, or remove mushrooms from pan and let them cool and room temperature. Pack in suitable containers leaving 1/2 inch of headspace. Seal, label and freeze.
Suitable Packaging:
Freezer containers should be moisture and vapor resistant and should not be prone to cracking or breaking at low temperatures. Containers should provide protection against absorbing flavors or odors and should be easy to label. Suitable packaging for freezing mushrooms includes freezer-grade plastic bags, rigid plastic containers or glass containers and heavy-duty aluminum foil.
Maximum Storage Time:
10 to 12 months at 0ºF.
Thawing:
Add frozen mushrooms directly into dishes while cooking.
Refrigerating Mushrooms:
Place mushrooms in an open paper bags and store in the refrigerator for 4 to 5 days.
Wipe and slice mushroom. Add 1 tablespoon lemon juice to 2 cups of cold water. Add mushrooms, and let stand for 5 minutes. Discard and saute' in oil or butter, or steam in a veggie steamer. Cool and freeze. The color doesn't change.
By Dorty from SA
I have 2 packages of white mushrooms and I would like to know how to freeze them.
By Sylvia from Boynton Beach, FL
---
RE: Freezing Mushrooms
I have froze mushrooms for years. I do not wash them first. Just put them in the freezer in a plastic bag. They will not stick together if they are dry. Then take out what you want and wash them. They will be soft and dark so you can only use them for cooking, but the flavor is not impaired. (04/13/2010)
By Ann
Can you freeze fresh mushrooms?
By Wendy
---
RE: Freezing Mushrooms
Yes, but it's best to cook them first. Slice or quarter and saute in a pan with a little oil or butter. I add sliced onion while cooking the mushrooms. Let it cool off and then freeze in containers or plastic freezer bags. (07/02/2010)
By OliveOyl
RE: Freezing Mushrooms
They get kind of rubbery. (07/02/2010)
By T&T Grandma
Can fresh mushrooms be frozen?
By Carlos from Saginaw, MI
---
RE: Freezing Mushrooms
Yes, they freeze well. I slice them then lay them on a cookie sheet and put them in the freezer. When they are frozen I put them in Ziploc bags. They are ready to take out when I need them. I do not thaw them before I cook them. Enjoy! (08/25/2010)
By chrissy1313
RE: Freezing Mushrooms
You can do as chrissy suggested and here are three other ways:
http://www.mushroom-appreciation.com/freezing-mushrooms.html
Be sure to wash and pat the mushrooms dry before cooking or freezing. (08/25/2010)
By Deeli
RE: Freezing Mushrooms
I like to saute sliced mushrooms in butter then fill snack zip top bags. Then I gather all my snack bags full of sauteed mushrooms and put then in a larger freezer zip top bag, label, and freeze. When a recipe calls for a can of slice mushrooms, I use one snack bag of frozen mushrooms. This works well when you find a great sale on mushrooms. (08/25/2010)
By piki viki