Blue Plumbago (Florida)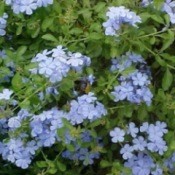 My blue Plumbagoes are in full bloom here in sunny, hot, humid Florida. I have about 40 of these bushes scattered throughout my front and back yard and they are so beautiful when they bloom. They are drought resistant so they are perfect for our type of weather.
By Florida Gal
Feedback
Post Feedback
Add your voice to the conversation.
Related Guides
Related Posts