Chopper (Beagle)
Chopper is a 2 year old Beagle.
My husband found Chopper last summer at a construction site. Chopper had open wounds, major hair loss, and was full of fleas and ticks. After he gobbled up a cookie my husband offered him, we instantly had a new child.
We nursed him back to health and now, Chopper and our lab, Roxy, are best friends. They chase each other, wrestle, and fuss over each others toys. Chopper also likes to sleep wrapped up in blankets, when we let him, he'll sleep at the foot of our bed, in a ball, under all the covers.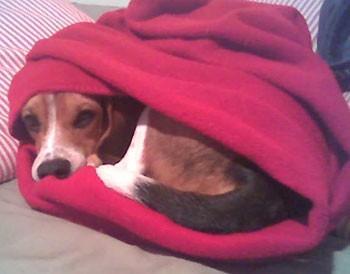 By Elaia from Baton Rouge, LA
Feedback
Read feedback for this post below. Click here to post feedback.

By
02/22/2006
I LOVE this picture, and what a lucky pup that he found you, it wouldn't be a very nice world without our pets. I just wish that all the people treated their animals like we do on this site, we are true animal lovers. Keep up the good work, your baby looks happy and content!

By
02/21/2006
SWEET FACE, he is adorable...I agree with all
he found a great home with you and your hubby.
Love his blankie...ahhhhhhh

By Gramma Mary (Guest Post)
02/21/2006
If you have a new baby, does that mean he's my grandbaby????? Well, he's awfully cute. I'll claim him!!! As I told you before, he's one lucky dog!!!

By Chris (Guest Post)
02/21/2006
He is adorable, he looks like my Bear - also a rescue. There are so many abandoned cats and dogs who need someone to rescue them. I love it when they find someone who cares.
http://www.furryfriendsrescue.bravehost.com/

By
02/21/2006
Oh my, how could you say no to a face like that! Our doggies are our kids too! Good for you for taking him in!!! Give him a hug and kiss for me!!
Pam

By Slowpoke (Guest Post)
02/21/2006
Beagles make such good pets, especially if you have children. They are always happy to see you, don't have moods, and I love to hear them "track" rabbits! Thanks for sharing your baby with us!

By
02/21/2006
By the way y'all, he wrapped himself up like this himself...I know, I'm ridiculously proud of my pets. :) Thanks for the comments!

By Paula in ga (Guest Post)
02/21/2006
SOOOO CUTTTEEE! Awe, I love it when someone can take in a neglected dog...it always makes me so sad to see poor little pups just discarded.

By Me (Guest Post)
02/20/2006
Absolutely adorable! You have a great guy. Mine has done the same thing. I wouldn't be with anyone who wouldn't.
Post Feedback
Add your voice to the conversation.