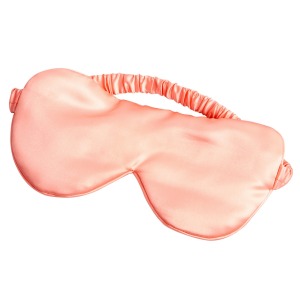 When you need to sleep during the daytime, wearing a comfortable mask can help block the light. This is a guide about homemade sleeping mask.
Ad
---
Solutions: Homemade Sleeping Mask
Read and rate the best solutions below by giving them a "thumbs up".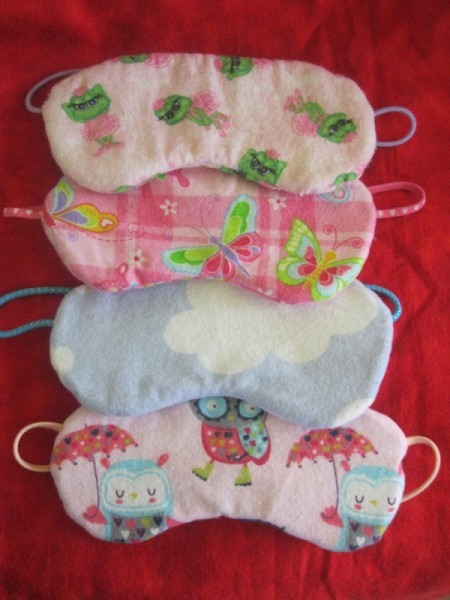 I once purchased a sleep mask in the dollar bin at Joann's. My girls are always fighting for who gets to use it. So, why not make one for everyone? This is a very simple and inexpensive project. It even costs less than the one I got in the dollar bin! You can make several for yourself or others. I can think of no greater gift than a good night's sleep!
Approximate Time: 20 minutes
Supplies:
fabric (I used flannel for it's softness)
batting (optional) - It just makes it a little cozier!
thin elastic headbands (I found a pack of 8 at the Dollar Store)
thread
needle
scissors
sewing machine
Ad
---
Steps:
Take your thin headband and make one cut in it. This will be the band that holds the mask on. It's not vital, but I burn the ends over a flame for a brief second so that it doesn't unravel.
Double up your fabric. If there is a pattern going a certain way, make sure the both sides are facing the right way.
Use a sleep mask you already have or you could use a pair of sunglasses as a template. Or, if you are especially gifted, you can draw it freehand!
Place your template down. Trace around it with a pen (don't worry you won't see the marks once it's sewn). Trace your lines about 1/2 inch bigger than you want the mask to be, allowing for the edges that you sew. The tracing does not need to be perfect. We'll fix it in a minute.
Cut out your pattern.
Fold your mask in half and trim up any edges that are larger than the other side. See how unevenly I cut mine? But, that's okay, we're fixing it!
Put your mask on the batting (if using). Cut the batting the same size as the mask.
Take 1 piece of fabric. Have the "good side" facing up. Lay the headband on top, making sure that the strap is not twisted. (It might be uncomfortable to have the straps twisted behind your head while you sleep.) You want the straps to be about an inch from the top. Make sure that the bands are even with the edge of the mask. Take the excess bands and place in the center. You don't want to sew over them.
Place other piece of fabric, "good side" facing down.
Place batting on top of fabric.
Pin the straps in place. Again, make sure that they are flush with the edge. If not, you won't have the straps sewn in. Fold your mask in half and make sure that the straps are in the same place. I just figured this out. All my others are so uneven!
Pin all around.
Time to sew! The thread color does not matter. You won't see it. Sew around the mask, starting at the top or bottom of the mask. Make sure to not sew over the straps. Leave a 2 inch opening to turn the mask inside out. Reinforce both ends of the opening. Trim the excess fabric and batting.
Turn inside out. Both pieces of fabric should be on the outside and the batting should be on the inside.
Sew your opening closed.
This kid isn't even sleeping. See that smile?
My partner reads late at night, and I like to go to sleep right away. We have fixed this problem with the light keeping me awake, by me wearing a sleep mask.

However, I didn't go out and spend 7-20 dollars on one. I just grabbed my flannel ear muffs headband and wear it around my eyes. I get my darkness and snooze soundly!
Give a "thumbs up" to the solution that worked the best! Do you have a better solution? Click here to share it!
Questions
Here are questions related to Homemade Sleeping Mask.
I would like instructions for making a sleeping mask.

Amy from Wisconsin
Ad
---
---
Most Recent Answer

By Diane12/16/2004
I made one using scraps of flannel material and fleece blanket edging. I cut a rounded hourglass shape from a double layer of flannel, put wrong sides together, pinned blanket edging all around and sewed, then covered elastic in the blanket edging and sewed to either side. I would like to try maybe filling one with dried herbs next.