Homemade Pet Toys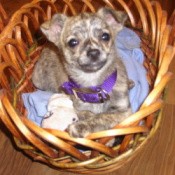 Keep a box in the closet or elsewhere for worn out socks and tee shirts, old pillowcases, and various other items that you can use to create homemade pet toys. Here's a few ideas to get you started:
Tie socks together to make a pull toy.
Put a squeaky toy inside of a sock to make it last longer with dogs that otherwise might quickly destroy the toy.
Dogs love the crinkling sound of an empty plastic water bottle stuffed inside of a sock.
Put catnip inside of a sock.
Use old tee shirts, pillows, pillow cases, and shams to make a dog or cat bed.
Make a ball out of crumpled paper for your cat to chase.
Pet toys can be expensive. Making them yourself is frugal and fun.
By VeronicaHB from Asheboro, NC
Feedback
Post Feedback
Add your voice to the conversation.
Related Guides
Related Posts